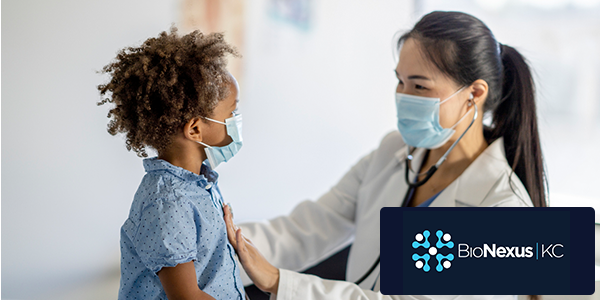 For Immediate Release: October 25, 2022
KANSAS CITY, MO – BioNexus KC has awarded two $50,000 grants to Kansas City scientists to support research on pediatric genetic diseases. The partnership with the Paul Patton Trust launched in 2007 and has awarded 48 grants totaling $2.6M. The Paul Patton Trust, Ted C. McCarter, William Evans, Jr., and Bank of America, N.A. Trustees provide the funds to support these studies.
"Being able to spark investment in research that will improve outcomes for kids is incredibly rewarding," said Daniel Kennedy, Vice President of BioNexus KC. "There is no better way to invest in our future than to make it better for the next generation. Each award presents larger grant opportunities and returns over $13 in funding to the KC region for every $1 donated."
A brief description of both grant recipients' research is below.
Genetic Link Behind Most Common Birth Defects
Craniofacial abnormalities are a diverse group of congenital disabilities of the head and facial bones. These disorders are typically present at birth, ranging from mild to severe, such as small jaw or cleft palate, and accompany 75% of birth defects. These anomalies are often genetic, and therapies are limited to surgical interventions with unpredictable success. Identifying genes and defective biological processes contributing to these diseases is essential to developing treatments.
Pamela Tran, PhD, Associate Professor of Cell Biology and Physiology in the School of Medicine at the University of Kansas Medical Center, and her team will examine the biological processes of bone development to determine which genes are defective and lead to developing small jaw, a common craniofacial abnormality. The team will also explore whether variants in two specific genes co-occur in children with craniofacial defects. This is crucial for paving the way for devising therapeutic strategies. We study the primary cilium, a signaling organelle essential for human health and development. Recently, we have found that two cilia genes interact and are required to shape the jaw", Tran said. "We will determine the biological processes that go awry when these two genes mutate. We hope that an increased understanding of these developmental processes will one day lead to better treatments for children with these devastating anomalies."
Novel Genomic Technologies will Improve Rare Disease Diagnosis
Whole Genome Sequencing (WGS) is a comprehensive method for analyzing entire genomes. However, the ability to determine the clinical significance of genetic variants is primarily restricted to regions of the genome that code for proteins, less than 2% of the human genome. The challenges associated with predicting the functional consequences of genetic variants located within noncoding sequences, more than 98% of the human genome, are a significant factor in the low diagnosis rates for rare disease patients.
Scott Younger, PhD, Director of Disease Gene Engineering in the Department of Pediatrics in the Genomic Medicine Center at Children's Mercy Kansas City, and his team will develop high-throughput experimental technologies for evaluating the molecular consequences of genetic variants at scale. His team will utilize these technologies to profile rare genetic variants identified at the Children's Mercy Research Institute through its Genomic Answers for Kids program. "Support from the BioNexus KC Patton Trust Grant is enabling us to develop cutting-edge genomic technologies that will dramatically impact our ability to interpret genetic variation detected in the genomes of children living with a rare undiagnosed disease," Younger said. "We're optimistic that data generated as part of this study will lead to long-awaited answers for many families in our community directly impacted by rare disease."
###
About the BioNexus KC Research Development Grants Program:
The BioNexus KC grant program has awarded 162 grants totaling $6,700,000 since the program launched in 2002. The program intends to better position researchers to compete for larger federal grants. For every grant dollar awarded by BioNexus KC, $13.10 returns to the region from federal agencies. The total return on investment currently stands at $66,000,000 and continues to grow.
Through its Research Development Grants program, BioNexus KC manages a variety of individual grants for area corporations and trusts, helping them identify proposals with the best scientific, medical, and technical merit. Research grants are awarded for generating initial results and stimulating major multidisciplinary research proposals submitted to government or private agencies. The program includes proposal review, evaluation by subject matter experts, written reviews for all applicants, and post-award management.
About BioNexus KC:
BioNexus KC believes we can do more to care for people and animals. We inspire thinkers from different disciplines to combine their efforts for a common purpose — healthcare innovation. From bioinformatics to cancer research and beyond, our goal is to stimulate collaboration and advance emerging technologies from concept to reality.
The KC region is a global leader at the nexus of human and animal health, benefiting all our citizens and the economy. Our mission is to highlight life sciences resources and their value to the community through collaboration and commercialization. BioNexus KC creates opportunities at the nexus of:
Human and Animal Health
Urban and Rural Health
Academia and Industry
Kansas and Missouri
Media Inquiries:
Jennifer Lindholm
BioNexus KC – Marketing and Communications Manager
jlindholm@bionexuskc.org
913-314-0235
Daniel Kennedy
BioNexus KC – Vice President
dkennedy@bionexuskc.org
816-753-7700