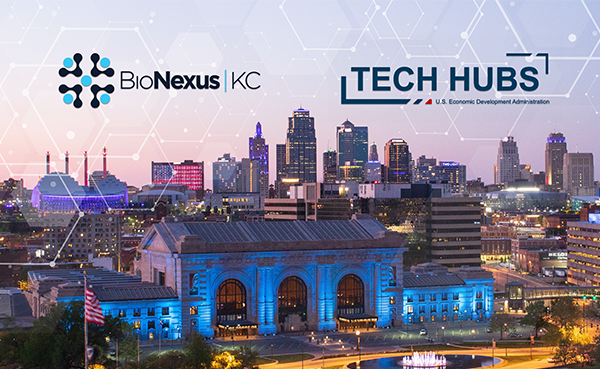 For Immediate Release: October 23, 2023  
KANSAS CITY, MO – The U.S. Economic Development Administration has named the KC region a "Tech Hub" as part of a historic investment to strengthen the U.S. economy and national security.
The regional proposal, Kansas City Inclusive Biologics and Biomanufacturing Tech Hub (KC BioHub), led by BioNexus KC and 60+ partner organizations, will ramp up life-saving vaccine production and other preventative technologies to leverage regional assets and the existing ecosystem to become a global leader in biomanufacturing and life sciences. KC BioHub can now apply for phase 2 funding of up to $75 million.
 "Tech Hubs designation validates our intentional focus on collaboration and innovation in the KC region and builds upon our strong foundation of excellence in life sciences over the past two decades," said Dennis Ridenour, President and CEO of BioNexus KC. "With our robust ecosystem, assets, and inclusive approach, the KC region is poised for long-term growth in technology innovation. Along with strengthening our economy, Tech Hubs designation will accelerate our mission to be a global leader in biomanufacturing."
Tech Hubs was passed with the CHIPS and Science Act of 2022 and has authorized $10 billion for the program over five years. The goal of the federal program is to give an economic push to communities like the KC region. It is expected to drive new technologies to provide the U.S. with a competitive edge against other countries, driving economic growth and training for tech workers. The KC region was one of the 31 Tech Hubs chosen from more than 370 applications.
"This is an exciting opportunity for our community," said Lia McIntosh, Director of KC Rising. "Tech Hubs designation falls directly in line with the work of the Biologics Task Force, and Industry Action Team, as pillars of our mission to develop, attract, and retain the diverse talent necessary to grow the region's economic competitiveness."
"Thank you to our 60+ partner organizations that contributed to our regional application, including our civic, community, and congressional leaders who gave their full support. Not only are we home to successful sports teams with an innate ability to host world-class events, but now we're nationally recognized for our work in life sciences and biomanufacturing," Ridenour said.
###  
About BioNexus KC:  
The KC region is a global leader at the nexus of human and animal health, inspiring thinkers from diverse disciplines to combine their efforts for a common purpose — healthcare innovation. For over 20 years, BioNexus KC has been advancing the region's strengths in digital health, cancer research, health equity, informatics, and rare disease.   
BioNexus KC stimulates collaboration, accelerates emerging technology from concept to reality, and creates opportunities at the nexus of:  
Human and Animal Health 

Urban and Rural Health

 

Academia and Industry

 

Kansas and Missouri

 
Media Inquiries
Jennifer Lindholm 
BioNexus KC – Director, Communications and Marketing  
jlindholm@bionexuskc.org 
913-314-0235