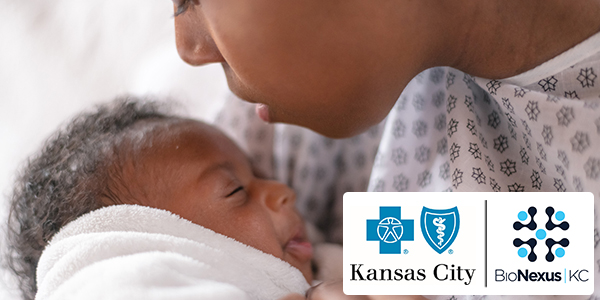 For Immediate Release: October 5, 2022
KANSAS CITY, MO – Blue Cross and Blue Shield of Kansas City (Blue KC), in partnership with BioNexus KC, awarded the 2022 Blue KC Transforming KC: Health Outcomes Research Grant to continue their ongoing commitment to health equity. The $50,000 grant will support research on how doula care impacts healthcare quality and reduces poor health outcomes for Black pregnant and birthing people.
"BioNexus KC is a trusted partner to facilitate collaboration and encourage innovation to achieve improved outcomes for all," said Erin Stucky, President and CEO of Blue KC. "Positive birth outcomes are more likely when initiatives are community-supported. This important and much-needed maternal research will propel our regional health equity focus."
Blue KC and BioNexus KC are committed to promoting community collaboration and partnerships. They have partnered since 2012 to award more than $1 million in grants to research projects that improve the health and wellness of the Kansas City community. "Our collaboration with Blue KC has the potential for immediate impact," said Dennis Ridenour, President and CEO of BioNexus KC. "Identifying and addressing health inequities is one of our region's largest areas of opportunity and must remain a priority."
The 2022 award recipient is Angela Martin, MD, Assistant Professor in the Department of Obstetrics and Gynecology at the University of Kansas Medical Center. Martin and her team will screen Black patients receiving prenatal care at The University of Kansas Health System for risk factors that increase their risk of a poor birth outcome. These risk factors will be randomized, and the patients will receive standard prenatal or doula-enhanced care. Martin and her team will compare results between these patients in routine prenatal care and doula care to research whether doulas improve care quality and reduce adverse effects.
"People of color, especially Black pregnant and birthing people, are at a higher risk of poor birth outcomes in the United States," Martin said. "Our faculty and staff at the University of Kansas Health System are devoted to birth equity. We are excited to investigate ways to combat maternal health disparities for Black birthing people here in Kansas City."
This award is intended to leverage investigator and facility strengths, leading to highly competitive proposals for future external funding and scalable innovation.
###
About the BioNexus KC Research Development Grants Program:
The BioNexus KC grant program has awarded 162 grants totaling $6,700,000 since the program launched in 2002. The program intends to better position researchers to compete for larger federal grants. For every grant dollar awarded by BioNexus KC, $13.10 returns to the region from federal agencies. The total return on investment currently stands at $66,000,000 and continues to grow.
Through its Research Development Grants program, BioNexus KC manages a variety of individual grants for area corporations and trusts, helping them identify proposals with the best scientific, medical, and technical merit. Research grants are awarded for generating initial results and stimulating major multidisciplinary research proposals submitted to government or private agencies. The program includes proposal review, evaluation by subject matter experts, written reviews for all applicants, and post-award management.
About BioNexus KC:
BioNexus KC believes we can do more to care for people and animals. We inspire thinkers from different disciplines to combine their efforts for a common purpose — healthcare innovation. From bioinformatics to cancer research and beyond, our goal is to stimulate collaboration and advance emerging technologies from concept to reality.
The KC region is a global leader at the nexus of human and animal health, benefiting all our citizens and the economy. Our mission is to highlight life sciences resources and their value to the community through collaboration and commercialization. BioNexus KC creates opportunities at the nexus of:
Human and Animal Health
Academia and Industry
Kansas and Missouri
About Blue Cross and Blue Shield of Kansas City:
Blue Cross and Blue Shield of Kansas City, the largest not-for-profit health insurer in Missouri and the only not-for-profit commercial health insurer in Kansas City, has been part of the Kansas City community since 1938. Blue Cross and Blue Shield of Kansas City provide health coverage services to more than one million residents in the greater Kansas City area, including Johnson and Wyandotte counties in Kansas and 30 counties in Northwest Missouri. Its mission is to provide affordable access to healthcare and improve its members' health. Blue Cross and Blue Shield of Kansas City is an independent licensee of the Blue Cross and Blue Shield Association. For more information, visit BlueKC.com.
Media Inquiries:
Jennifer Lindholm
BioNexus KC – Marketing and Communications Manager
jlindholm@bionexuskc.org
913-314-0235
Dennis Ridenour
BioNexus KC – President and CEO
dridenour@bionexuskc.org
816-753-7700