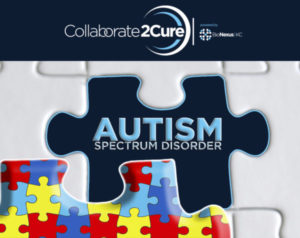 KANSAS CITY, MO – BioNexus KC is pleased to announce David Beversdorf, MD, Professor of Radiology and Neurology at the University of Missouri as the recipient of a $50,000 research grant from the Collaborate2Cure (C2C) series on Autism Spectrum Disorder (ASD).
Genetics is a known critical factor in ASD; however, the importance of environmental factors are emerging. While progress has been made towards understanding of genetic factors, environmental factors are less understood. Addressing this is a significant need, as it may help facilitate early identification for some ASD cases. Specifically, Dr. Beversdorf will use the grant funds to research prenatal stress exposure and its association with ASD development. "This is exactly the type of proposal that the Collaborate2Cure grants are after," says Daniel Kennedy, Vice President of BioNexus KC. "This work promotes collaboration, future funding, and realistic health benefits for our community." For this research, Dr. Beversdorf will collaborate with Dr. Zohreh Talebizadeh at the Newborn Screening Translational Research Network of the American College of Medical Genetics and Genomics and the Genetics Core lab at the University of Kansas Medical Center.
About the Research:
Dr. David Beversdorf has found an elevated incidence of prenatal stress exposures late in pregnancies that resulted in children subsequently diagnosed with ASD, confirmed by studies examining tropical storms in Louisiana and their association with autism births. The Beversdorf lab also found alterations in the concentrations of a specific set of powerful regulatory molecules, microRNA (miRNA), in the brains of mice exposed to prenatal stress. This phenomenon is also observed in the blood of human patients. The recent discovery that miRNA can readily move across the placenta from mother to offspring raises the question as to whether miRNA might be part of the mechanism causing the neurodevelopmental alterations in the offspring. Therefore, with this study, we will begin to explore the potential of miRNA as a biomarker for maternal exposure to stress during pregnancy.
This initial work will allow the Beversdorf lab to submit larger NIH proposals that can track outcomes of these pregnancies, in order to determine which biomarkers are predictive for certain neurodevelopmental outcomes. Future work can then focus on intervention to mitigate the risks for development. The outcomes of this research are of particular interest to disadvantaged communities where there is a high incidence rate of developmental disabilities.
About Collaborate2Cure:
The C2C program, founded in 2016, provides a platform for collaboration, allowing scientists in the KC region to share their research and ultimately compete for funding dollars. Previous topics of the series include cancer immunotherapy, mitochondrial dysfunction, and value-based healthcare. For the most recent C2C series, BioNexus KC chose to focus on ASD owing to the KC region's robust network of basic researchers, clinicians, patient advocacy groups, and start-up companies devoted to the condition. Funding for the C2C research grant was generously provided by the Charles & Jennie Fermaturo Charitable Trust.
BioNexusKC appreciates the term "cure" takes on a contextual meaning within the autism community – its use here is only as part of the name of this long-standing program term series and not specifically applied to the autism-focused events in this series. We respect all individuals in the autism community, and encourage you to share your voice in events focused on the science around autism.
About BioNexus KC:
BioNexus KC believes we can do more to care for people and animals. We inspire thinkers from different disciplines to combine their efforts for a common purpose — healthcare innovation. From bioinformatics to cancer research and beyond, our goal is to stimulate collaboration and advance emerging technologies from concept to reality.
The KC region is a global leader at the nexus of human and animal health benefiting all our citizens and the economy. Our mission is to highlight life sciences resources and their value to the community through collaboration and commercialization. BioNexus KC creates opportunities at the nexus of:
Human and Animal Health
Academia and Industry
Kansas and Missouri
Media Inquiries:
Daniel Kennedy
BioNexus KC – Vice President
dkennedy@bionexuskc.org | 816-285-0582
Shaylee Yount
BioNexus KC – Marketing & Events Manager
syount@bionexuskc.org | 816-753-7700