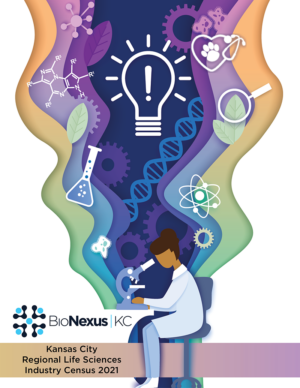 KANSAS CITY, MO – The 2021 Kansas City Regional Life Sciences Industry Census, a tri-annual report spanning from Manhattan, KS to Columbia, MO, indicates a steady life sciences ecosystem and future growth potential.
The report identified a total of 286 regional companies with approximately 35,000 employees, a nominal decline since 2018. This is the first reported decrease in the number of life sciences companies since the first Census was conducted in 2003. The 2021 Census revealed 41  companies have joined the KC region, 17 companies have closed or moved, and a record high total of 27 merger or acquisition transactions took place since 2018.
"The pandemic provided a significant opportunity for the life sciences industry, but it also presented major disruptions for companies through talent shortages, access to customers and capital, and overall business continuity. The Census shows that, in the face of these challenges, the regional life sciences industry demonstrated impressive resilience," Dennis Ridenour, President & CEO of BioNexus KC said.
Looking ahead, more companies are projecting more significant growth over the next three years than in any previous Census period. "Great things lie ahead for the KC region," Ridenour said. "I am excited to see all that we achieve."
A quick look at the data reveals:
Human health companies account for 68% of the workforce while animal health companies represent 23% and plant science companies are 9%.
Long term, the region has seen a net increase of eighty-seven companies since 2006, a 44% increase. The significant growth in the number of companies is driven by the number of new companies formed in, or relocated to the region. The strongest growth has been in the Medical Device and Health IT segments.
Companies in the 'Biotechnology Research and Testing' and 'Drugs and Pharmaceuticals' segments account for nearly half of the companies in the KC region.
The region saw a 14% increase in university research centers, from 131 in 2018 to 149 in 2021.
Clinical trials are now performed at thirty-two regional hospitals and medical centers to advance research, an increase of seven since 2018.
A record high 88% of respondents plan to hire six or more employees in the next three years whereas 10% have plans to hire 100 or more.
Demand for workers with a high school diploma, or some level of post high school certification has increased the most of all educational levels since 2006, especially in the last two Census periods.
Overall, the bachelor's degree level position is still the largest need, with 62% of respondent companies projecting a need for bachelor's degree level positions in the next three years.
The Census tracks the regional life sciences industry and defines the composition and scope of economic activity in this vital sector. Additionally, it identifies industry employment and research and development trends, with the findings strongly influencing regional policy and economic and workforce development in the region.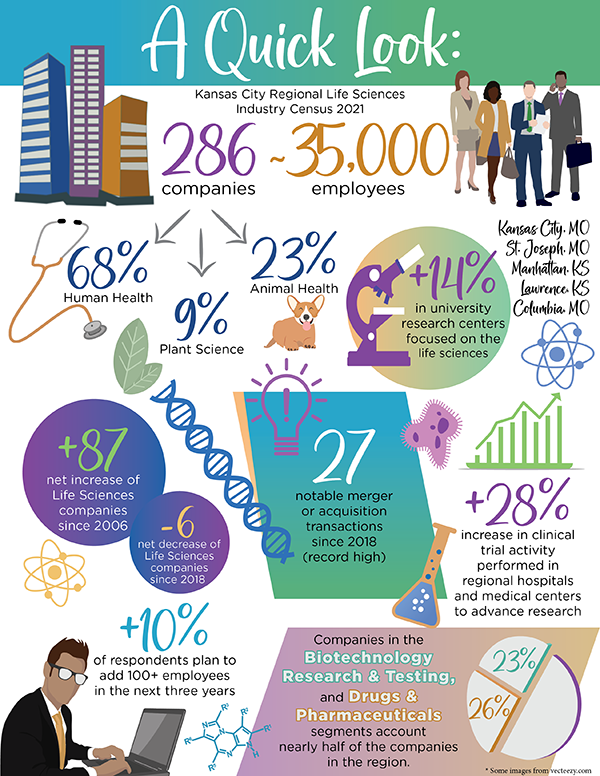 ###
About Life Sciences Industry Census:
The 2021 Kansas City Regional Life Sciences Industry Census tracks the growth of the life sciences industry and provides a snapshot of our regional strengths and activity. An inventory of life sciences companies between Manhattan, KS and Columbia, MO has been completed every three years since 2003. Use of the same methodology since 2006 provides the region's only repeated systematic assessment of industry assets.
About BioNexus KC:
BioNexus KC believes we can do more to care for people and animals. We inspire thinkers from different disciplines to combine their efforts for a common purpose — healthcare innovation. From bioinformatics to cancer research and beyond, our goal is to stimulate collaboration and advance emerging technologies from concept to reality. The KC region is a global leader at the nexus of human and animal health benefiting all our citizens and the economy.
BioNexus KC creates opportunities at the nexus of:
Human and Animal Health
Academia and Industry
Kansas and Missouri
Media Inquiries:
Shaylee Yount
BioNexus KC – Marketing & Events Manager
syount@bionexuskc.org
816-753-7700