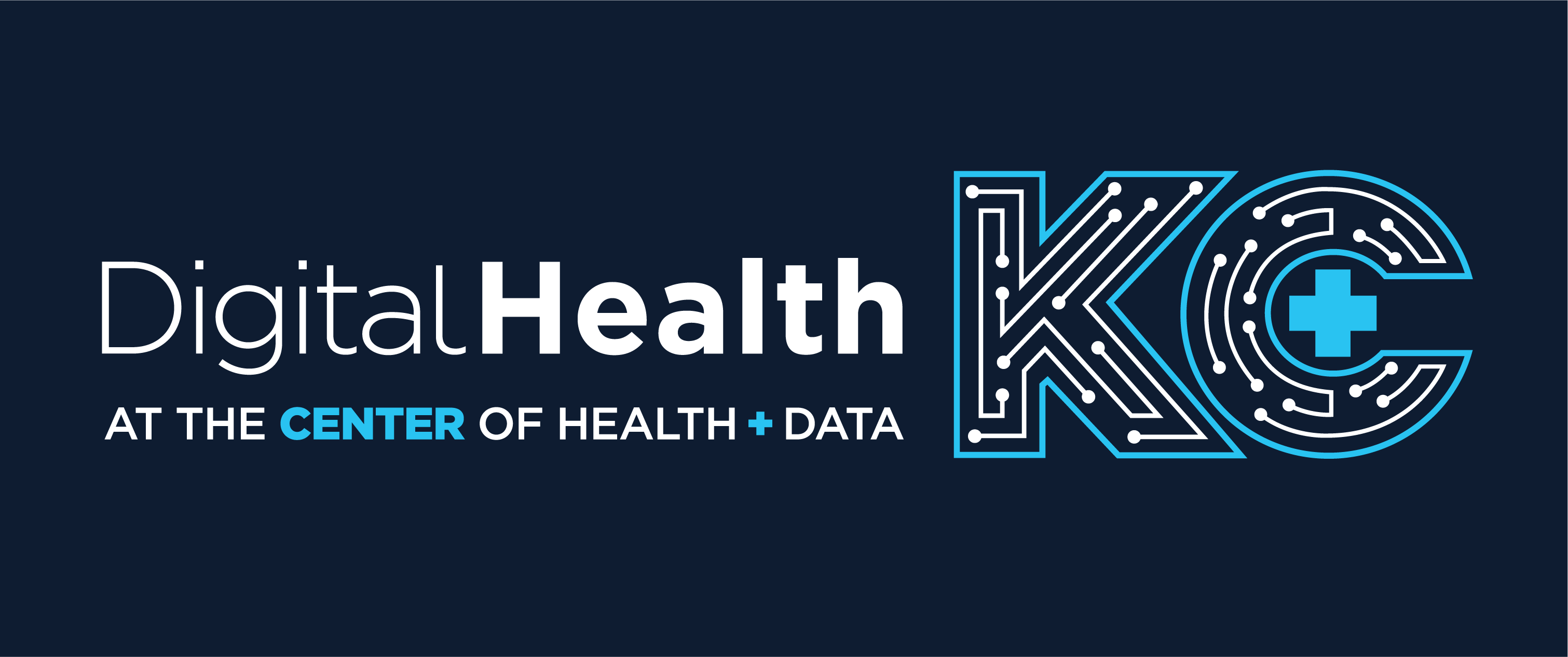 For Immediate Release: March 28, 2023
KANSAS CITY, MO – BioNexus KC, a catalyst for human and animal health innovation, announces the creation of Digital Health KC. At the center of health + data, the organization will advance the KC region's digital health cluster.
Digital Health KC will create ideal conditions for a vibrant ecosystem, catalyze collaboration, and connect critical elements such as ideas, talent, companies, capital, and customers.
"The opportunity for digital health was identified as early as 2008 by BioNexus KC and was one of the four scientific focus areas identified in our Path to 2025 report," said Dennis Ridenour, President and CEO of BioNexus KC. "We are seeing rapid development of digital health companies in the KC region, and Digital Health KC will accelerate regional growth."
Digital Health KC aims to establish the KC region as a top 3 destination to start, grow, and retain a digital health business, grow the digital health ecosystem in the KC region to over 125 companies, and enable ten digital health unicorns (a privately owned startup company with a value of over $1 billion).
Digital Health KC will connect and collaborate with a robust ecosystem of digital health companies, health systems, research institutions and universities, payers, investors, professional services, and industries adjacent to digital health, such as pharma, biotech, diagnostics, devices, and medical supply.
"We will work with the digital health ecosystem to elevate the region and achieve our target outcomes," said Dick Flanigan, CEO of Digital Health KC. "Cerner brought thousands of tech professionals to Kansas City and pioneered the digital health ecosystem. Digital Health KC will build off that momentum and attract companies to KC to advance healthcare innovation."
In addition to Oracle Cerner, the KC region boasts many thriving digital health companies, including Netsmart, WellSky, Bardavon, and Rx Savings Solutions, recently acquired by McKesson. The KC region includes over 55 digital health startups.
Beyond the substantial economic development benefits, a robust digital health infrastructure enables improvements in quality and cost reductions to address health inequities in urban and rural areas throughout the KC region.
"I am excited about the launch of Digital Health KC and the opportunity it bears to support our purpose of inclusive, powerful, and healthy communities characterized by racial equity and economically just systems," said Qiana Thomason, President and CEO of Health Forward Foundation. "Founders of color are dynamic and growing contributors to the region's digital health landscape, and this opportunity will attract additional resources to further digital equity."
The launch party for Digital Health KC will be held on May 11, 2023, at Boulevard Brewing Company. In addition to BioNexus KC, early supporters and partners of Digital Health KC, such as KC Digital Drive, Kansas City Area Development Council, and Pipeline Entrepreneurs, among others, will be invited to celebrate.
###
About BioNexus KC:
The KC region is a global leader at the nexus of human and animal health, inspiring thinkers from diverse disciplines to combine their efforts for a common purpose — healthcare innovation. For over 20 years, BioNexus KC has been advancing the region's strengths in digital health, cancer research, health equity, informatics, and rare disease.
BioNexus KC stimulates collaboration, accelerates emerging technology from concept to reality, and creates opportunities at the nexus of:
Human and Animal Health
Urban and Rural Health
Academia and Industry
Kansas and Missouri
About Digital Health KC:
With over 70 companies and 25,000 experienced professionals, Kansas City's digital health companies are solving healthcare's biggest challenges. Digitizing healthcare requires deep knowledge and experience of the care process, payment models, and data.
Digital Health KC supports existing companies, from start-ups to the largest enterprises, while attracting digital health businesses to the KC region. Digital Health KC connects ideas, talent, companies, capital, and customers to advance healthcare innovation.
Media Inquiries:
Jennifer Lindholm
BioNexus KC – Director, Communications and Marketing
jlindholm@bionexuskc.org
913-314-0235