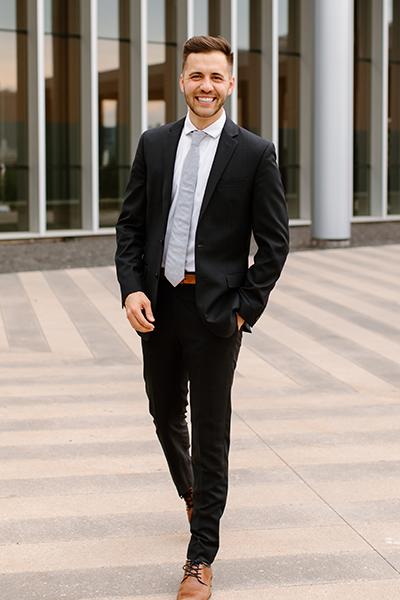 For Immediate Release: May 22, 2023  
KANSAS CITY, MO – BioNexus KC, a catalyst for animal and human health innovation, is thrilled to announce Chad Grittman as the organization's first Director of Strategic Partnerships. Grittman has nearly ten years of experience in non-profit fundraising and governance, project management, and cross-cultural leadership. Most recently, Grittman served as the Regional Philanthropy Officer at the American Red Cross. 
"Chad is bringing such great energy to this role and has a unique ability to drive all parties toward creating the greatest possible positive impact," said Dennis Ridenour, President and CEO of BioNexus KC. "He will be an integral part of our growth and vision for the future, and we are delighted to welcome him to our small but mighty team." 
As a 6th generation resident of the KC region and a graduate of Missouri State University, Grittman is devoted to Kansas City. 
"I love Kansas City. There's this beautiful network here, and I love it more and more as I get more embedded in it," Grittman said. "I want to be a part of work that has a generational impact. It's a culmination of all that work building into a net increase and growth over time. That's the work that I want to be a part of. The nature of my role isn't just philanthropic; it's a strategic collaboration to strengthen life sciences in Kansas City."  
The Director of Strategic Partnerships will be responsible for creating and executing a successful development and fundraising strategy. Grittman aims to serve and strengthen the life sciences ecosystem in the Kansas City region by identifying, cultivating, and nurturing relationships with prospective and current stakeholders, partners, sponsors, donors, and grantors.  
###  
About BioNexus KC:  
The KC region is a global leader at the nexus of human and animal health, inspiring thinkers from diverse disciplines to combine their efforts for a common purpose — healthcare innovation. For over 20 years, BioNexus KC has been advancing the region's strengths in digital health, cancer research, health equity, informatics, and rare disease.   
BioNexus KC stimulates collaboration, accelerates emerging technology from concept to reality, and creates opportunities at the nexus of:  
Human and Animal Health 

 

Urban and Rural Health 

 

Academia and Industry 

 

Kansas and Missouri 

 
Media Inquiries:  
Jennifer Lindholm 
BioNexus KC – Director, Communications and Marketing  
jlindholm@bionexuskc.org 
913-314-0235