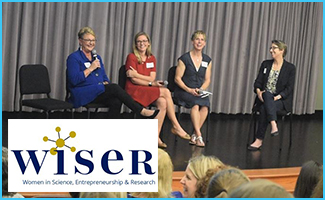 Women in Science, Entrepreneurship, and Research (WISER) came together on June 10, 2019 to learn, share, and promote each other at the 2019 WISER KC Conference. The event was held at the KU Edwards Campus and was presented by Missouri Cures and Central Exchange.
There were two panel discussions; Panel I focused on opportunities and challenges women face in science and research and panel II focused on innovation and entrepreneurship. Below are our top 8 takeaways from the event.
1. Be okay with not being perfect
Get over the perception of perfection and develop a sense of humor through every flaw and failure. Everyone makes mistakes.
2. Learn how to work with people
Understanding that there are different types of people is crucial for success.
3. Respect everyone you meet
Treat everyone you meet with respect. Every. Single. One.
4. Overcome Imposter Syndrome
Get over the fear factor of not believing in yourself. You are where you are because someone else believes in you, believe in yourself!
5. Promote women
Embrace a practice and culture of promoting women in STEM and STEAM. Be aware of others, nominate female colleagues. Support fellow women and diversity every day.
6. KC is the place to be
KC is a great place to build a company and offers a lot of incentives for entrepreneurs because of the expertise that is readily available. When starting a business, forget that you are a woman and just be a person. Give your community a chance to encourage you.
7. Does it work, make money, and do people want it?
In business you must prove three things:  1) That your product works, 2) That you can manufacture it at a price that can be profitable, and 3) That someone wants it. The rest is sweat and hustle.
8. Quit brainstorming and start Question Storming
Great results begin with great questions. Get smart people in a room and have them solve problems by asking questions. This exercise promotes collaborative and strategic thinking which has possibilities.