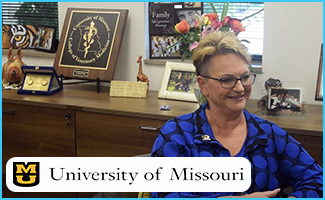 Inspiration has a divine element because sometimes its source is beyond explanation. For Carolyn J. Henry, DVM, MS, Dean at the University of Missouri (MU) College of Veterinary Medicine, inspiration has been a driving force throughout her life, guiding both professional and personal aspirations toward reality.
When Dean Henry first arrived at MU in 1997, she focused on building a veterinary oncology service. "My initial research challenge was trying to get our clinical caseload up to where we could do clinical trials." she said. The Oncology Service works with companion animals that have naturally occurring diseases and aims to translate research into direct applications to the same diseases in people, and potentially advance One Health. The One Health concept recognizes that the health of people, animals and the environment are all interconnected.
Dean Henry has witnessed the One Health concept come full circle. Back in the late '90s, MU researchers were working with a new bone cancer therapy that was first tested in dogs with the disease, including Molokai, an English springer spaniel from St. Louis. "About 15 years later, Molokai's owner learned that her father's prostate cancer had metastasized to the bone, and he was receiving the same treatment," Henry recalled. "It's rewarding to see the work that we do to help animals go on and help people with these same diseases."
A flash of inspiration struck a couple years ago when Dean Henry received a call from the widow of an MU CVM alumnus who had died unexpectedly. He had owned an emergency veterinary clinic in Kansas City. His widow wondered if the university had any interest in buying the practice. There was no budget at that time to embark upon such an undertaking; however, Dean Henry saw the potential this clinic could have for the region. "I had wanted to help develop a clinical trial screening center in Kansas City and since emergency clinics are open after hours, we could utilize the space during non-business hours for clinical trials," she said.
MU purchased the Veterinary Health Center at Kansas City in April 2018, and Dean Henry has worked to establish a coalition of four veterinary schools, including Kansas State University, Iowa State University, Oklahoma State University, and MU, to use the facility for trials. BioNexus KC will manage the facility as an unbiased umbrella institution. This will create an opportunity for these research institutions to have access to a larger population of animals and for industry partners to have a single point of contact to work with all four schools.
A flash of inspiration also collided with Dean Henry's family. One day she woke up with the specific direction of adopting a child from Africa. She tried to ignore the feeling for a month, but it wouldn't subside. "My husband came home one day and saw me searching the internet for what countries in Africa allowed adoptions," Henry said. "He said he'd been wanting to adopt but feared I would think he was crazy if he told me. He was right!" At the time, she and her husband had six children, and within six months they had adopted two brothers from Liberia. "After my husband passed away, I eventually met a man adventurous enough to marry a woman with eight kids, and he had two." This addition completed her crew, a total of 10 children, now ages 16 to 38. "I would like to say it's organized chaos, but often it's just chaos," she said. "It's fun to just sit back and watch it unfold."
Her work at MU has gone from establishing the Oncology Service at the College of Veterinary Medicine, to looking forward to breaking ground on the NextGen Precision Health Institute on campus this month. "We're going to be off to the races and really be able to have an impact in precision health," Dean Henry said. There will be roughly 68 investigators and each one of them will employ an average of 10 people. There will also be support staff for the facility, which will have a great economic impact not just for Columbia, but for Missouri.
Dean Henry said she enjoys watching the speed of the discoveries coming from the university's research environment. "It is conceivable that something we do clinically here will have an impact in the next five to 10 years, and that's the job you want to come to every day," she said.
For Dean Henry, inspiration has served as a trusted advisor, sometimes nudging her out of her comfort zone. The outcomes have guided her to advance the One Health Initiative in the region and to be an advocate for MU and her family.
The potential for all is limitless.