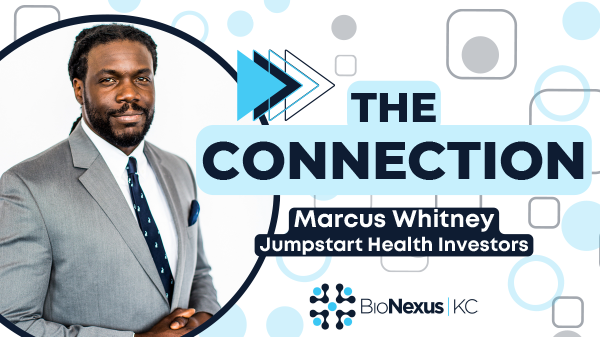 In the best-case scenario, venture capital investments will positively disrupt an industry. For Marcus Whitney, serial entrepreneur, author, and co-founder of Jumpstart Health Investors, this landscape is challenging, but the opportunity for impact is vast.  
Whitney's firm, based in Nashville, TN, focuses on early-stage health, healthcare, and wellness ventures and specializes in guiding founders through the unique differences between this industry and others. Beyond the highly specialized nature of the regulation in health care, the pace of startup progress is often much more deliberate and requires special consideration. "Healthcare moves a little slower, and the milestones are different," Whitney said. "If you're going to make a meaningful impact, there has to be interest to be involved and committed for multiple decades."  
Be Decision Ready
However, the speed of play has not slowed him or his company down. "The number one metric is growing the number of portfolio companies we support. That means finding the potentially great ones and increasing our funding base to be ready when we do," Whitney said.  
Whitney started in technology in 2001 at a publicly traded company called HealthStream as a junior developer. From there, he developed his skills and left to be the sixth employee of an email marketing startup named Emma. He advanced through their ranks until he was made a partner and chief architect. After four years, inspired by the founders he signed up to join, Whitney decided to go out on his own.
"I learned so much from that experience: how startups work, the value of acquiring equity, team building and managing people, and everything top to bottom of building a business," Whitney said.  
Disruption is Opportunity
He then co-founded one of the first tech accelerators in the country but recognized that the accelerator space quickly became crowded. "The accelerator market went from 20-30 nationwide to about three or 4,000 in about five years. It was so saturated, we realized we needed to do something else," Whitney said. Working with the same partner, Vic Gatto, they evolved their accelerator, Jumpstart Foundry, into Jumpstart Health Investors, a focused early-stage health venture capital firm headquartered in Nashville, serving an industry and region ready for growth, disruption, and investment support.   
This platform's success has allowed Whitney to expand his reach and impact to other often underfunded demographics. "In 2020, we were able to build on our success and start Jumpstart Nova, an early-stage fund investing in black-founded and led healthcare companies," Whitney said. Jumpstart Nova is a $55 million dollar fund with twelve portfolio companies to date.  
Funding, Innovation Fuels Future 
The current financial landscape has undoubtedly affected this sector. "The focus certainly shifts when the interest rates are higher. Investors are looking for companies that are right at the cusp of profitability or are already profitable." Whitney said. "But life sciences are its own thing, and they are used to asking the question of, how am I going to survive?" This sector is also unique with the consistent SBIR and STTR government programs. "These programs help keep the doors open and the milestones moving forward," Whitney said.   
Whitney is thrilled to join the Kansas City life sciences ecosystem and to share his story, experience, and insight as the keynote speaker at the BioNexus KC 2023 annual event on October 19th.
"I've had a front-row seat for 20 years of momentum, growth, and a prospering health ecosystem. Kansas City is on a super similar trajectory," Whitney said.  
 Growth potential in venture capital requires a long-term perspective. For Whitney, investing in life sciences breakthroughs and disrupting the status quo is a long game, requiring discipline, dedication, and durability to last and thrive.   
The BioNexus KC 2023 annual event unites 500+ leaders to promote and share human and animal health achievements. Immerse yourself in KC's rich life sciences ecosystem as we advance technology, innovation, and education to positively DISRUPT the KC region. Learn More >