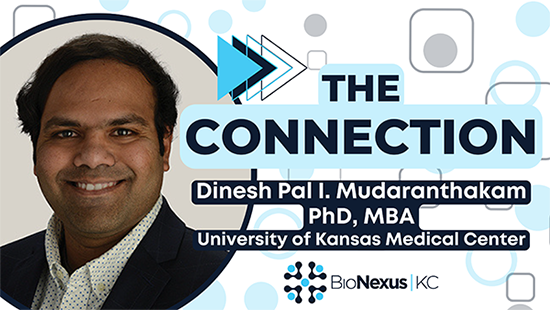 Data is the fuel for the compounding capability of modern medicine. Data is at the center of faster diagnostics, innovative treatments, and reducing the cost of the entire process. For Dinesh Pal I. Mudaranthakam, PhD, MBA, Assistant Professor and Director of Research Information Technology at the University of Kansas Medical Center, data can solve the cycle's start and end, enabling faster and more successful treatment while reducing the expense of it all.
Better Data Boosts Health Outcomes
Mudaranthakam sees both the benefit of better data sets and the burden that the cost of treatment can have on patients in his role. The former emboldens him, and the latter fuels his work.
"My goal is to find interventions that can support patients and the financial burden due to their healthcare costs," Mudaranthakam said.
Only part of the financial impact is directly caused by the cost of the treatment, and the physical toll can wreak havoc on the patient's stability. "There is a cascading effect stemming from treatments like chemotherapy. Picture a patient already in pain, undergoing multiple rounds of chemo, which weakens them and potentially limits their ability to work. This can reduce hours worked and can also reduce benefit eligibility. This can be a game changer," Mudaranthakam said.
While Mudaranthakam works to improve the method of accessing and actioning database research, he also focuses on keeping sight of the patients.
"Listening to their stories and seeing their attitude towards life boosts me and pushes me towards developing new strategies and establishing new policies that can help them get treatment and hopefully get back to a healthier life," Mudaranthakam said.
Using his data and research specialty, he aims to mitigate the cost of the treatment. "I have seen success in my approach to streamlining the processes for clinical trials and their systems. This gets innovation to the front line faster and reduces costs, lowering the patient's pass-through burden. I get to play both sides of the field," Mudaranthakam said.
Improving Systems for Better Access
Growing up in metropolitan India, Mudaranthakam came from a family that highly valued education. "The bare minimum education was an engineer. Aunts, uncles, everybody was an engineer or had their MD," Mudaranthakam said. Influential in his ultimate career path was the fact that he had both an aunt and an uncle affected by cancer. In India, then, his family had money but didn't have access to treatment. This created stress for his family, making it difficult for him to watch them struggle.
"When I came into higher education here, I could see that the cancer treatment was available, but people would run out of money. I was able to focus my education and passion in the same direction to improve how the system operated to streamline and optimize system-level barriers to allow better access for patients," Mudaranthakam said.
While getting his master's degree at Kansas State University, Mudaranthakam often drove to Kansas City. "I had many friends at Cerner, and unlike today, there just wasn't anything to do in Manhattan. KC became my second home," Mudaranthakam said. Today, he runs a local cricket team, bringing expats from around the world together with this global sport. "I guess this sport is in my blood; my grandfather was the captain of a team back in India and had me playing as a kid," Mudaranthakam recalled.