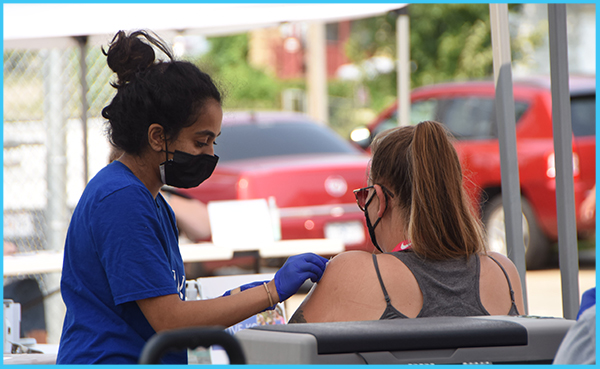 Hundreds of people in Kansas City are receiving potentially life-saving medical screenings and vaccines thanks to the work of Dr. Jannette Berkley-Patton, a University of Missouri – Kansas City (UMKC) professor and director of the University's Health Equity Institute. Within the last year, Berkley-Patton has secured more than $10 million in grants to fund key health initiatives that benefit vulnerable populations.
During the pandemic Berkley-Patton turned to churches, which can be the cornerstones of many communities, to increase access to COVID-19 testing and vaccines.Her team's work with African American faith leaders helped increase community trust, which proved to be vital in helping increase COVID-19 testing and reduce vaccine hesitancy. Thanks to $5 million in CARES Act funding approved by the Jackson County Legislature, Berkley-Patton's research team set up nearly 120 community-based events in collaboration with community partners to deliver widespread COVID-19 vaccinations and other health services to neighborhoods on Kansas City's east side. To date, over 6,000 people have been vaccinated through the Our Healthy Kansas City Eastside initiative.
"By working with churches, which are trusted institutions in the African American community, along with neighborhood associations, businesses, and youth organizations, we have greatly expanded access to the COVID-19 testing, vaccinations, and other health screenings in socially vulnerable areas of Kansas City," Berkley-Patton said.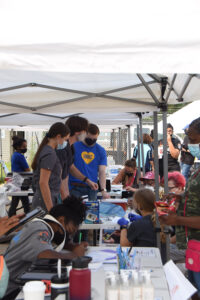 COVID-19 disproportionately impacts minorities and those living and working in low-income areas. This effort helps increase access to COVID-19 related health services to areas most impacted by the disease, in settings that are convenient and familiar to community members.
The Jackson County funding also supports delivering a survey to over 3,000 Jackson County residents, most from underserved populations, to learn about their personal health and social determinants. Additionally, the funding supports several studies on COVID-19, such as COVID long haulers, impact of COVID-19 on physical activity among youth, and COVID-19 and mental health.
"It's been an incredible opportunity to partner with Jackson County on this project, and address health disparities and research related to COVID," said UMKC Chancellor Mauli Agrawal. "Thanks to Dr. Jannette Berkley-Patton and her research, we have a clear understanding of the challenges and opportunities ahead of us – and the critical relationships that will ensure the program's success."
Currently, Berkley-Patton and her team are working to tackle long-standing and preventable chronic health conditions that tend be more prevalent in underserved communities. Funded by a $3.3 million grant from the National Institutes of Health, Berkley-Patton is working on an important diabetes prevention effort for African Americans. The grant will tailor the CDC's National Diabetes Prevention Program, an evidence-based lifestyle change intervention, to meet the needs of 360 African American pre-diabetic participants recruited from University Health.
"This is an extension of what we've been doing in the School of Medicine with Project FIT, which stands for Faith Influencing Transformation" says Berkley-Patton. "With Project FIT, nearly 900 people have participated in the program over the past 5 years and more than 200 UMKC students have been trained as FIT health coaches to help deliver the program alongside faith and community leaders."
Her team also received $1.9 million through NIH's Rapid Acceleration of Diagnostics Underserved Population initiative to increase reach of community-based COVID-19 testing in collaboration with African American faith organizations. Through the combination of COVID testing, COVID vaccination and diabetes prevention efforts, Berkley-Patton and her team at UMKC are improving the health and lives of thousands of people Kansas City's Eastside. Click here to learn more about the UMKC Health Equity Institute and the Our Healthy KC Eastside initiative.