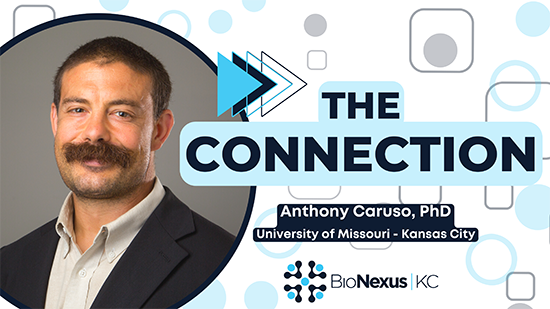 The globalized world is a complex landscape of networks. Anthony Caruso, PhD, Curators' Distinguished Professor of Physics and Electrical Engineering and Associate Vice Chancellor for Research at the University of Missouri-Kansas City (UMKC), aims to address issues stemming from this technological and geopolitical complexity. From military defense and weapons detection to microelectronics and pharmaceuticals, he works to reduce the risk of destabilization or medical issues for the United States.
Caruso's work at UMKC has been broad. Initially focused on the defense industry, when he came to UMKC in 2007, he first concentrated on electronic structure in magnetism. That study led to more applied work in neutron detection and opened doors with the Department of Defense (DoD).
"We were working on detecting plutonium or uranium and identifying legitimate threats," Caruso said. "It was a great way to cut our teeth in the DoD system and understand how to work within that enterprise."
This experience led to an R&D 100 award, two licensed patents, and two startup companies.
DoD Partnership Leads to Successful Technology
The success of Caruso's early defense work led to larger-scope work with defense microwave technology and drone defensive strike programs.
"The larger, long-range ground-based microwave systems were effective but created a risk of collateral damage that was unacceptable," Caruso said. "This led us down great research paths and created a more localized defense technology that we could mount on our drones and use to strike unapproved drones or electronics."
MIDE Tackles Complex Issues
This research and industrial alignment allowed Caruso to create the Missouri Institute for Defense and Energy (MIDE) at UMKC. MIDE has expanded to nearly 100 staff members and approaches complex problems from multiple verticals. This team's research projects address the U.S. dependence on imported microelectronics and active pharmaceutical ingredients.
"Right now, 90% of all antibacterial and antivirals are borne outside the U.S.," Caruso said. "That creates an unacceptable state of fragility. The downstream effect on other pharma sectors and medical devices would be significant—the same with microelectronics. The upfront impact, although significant, is only a fraction of the downstream impact, should overseas providers end export."
Defense to Supply Chain
This risk motivated Caruso to move from defense to increasing domestic independence in these manufacturing quadrants. The effort is seeking funding and supported by the Chips and Science Act. This 2022 federal bill allocates more than $50 billion to increase U.S. manufacturing or completive domestic production of processors and other microelectronics products.
"Building defense solutions is important to national security, but when we recognize and resolve the microelectronics dependency issue, we can also bring improvements and education back to families in Missouri and Kansas," Caruso said.
Caruso's impact goes from macro to micro with agility. He sees the macro risk but understands the micro effect that can help solve the problem. His primary drive is improving well-being, but not without eliminating the risk of depending on non-allies for U.S. stability. The world presents complex problems, but solutions are being developed here in Kansas City to benefit everyone.