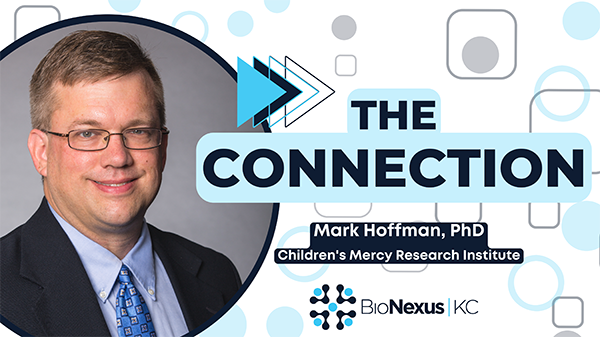 The speed of modern medical research and discovery owes no small credit to technology and big data. Housing and handling this data technology is a challenge. For Mark Hoffman, PhD, Chief Research Information Officer at Children's Mercy Research Institute, the responsibility of systems and platforms for research is his team's to manage, and research and discovery will continue to leap forward and impact millions around the globe.
Optimizing healthcare through technology
Technology is a compounding partner for life sciences professionals. At Children's Mercy, Hoffman's team manages data systems for many significant projects, from human subject research and the Institutional Review Board requirements to the Big Data Cloud platforms used for the genome center.
"It's truly a wide variety of areas that our team supports. I also continue my research focused on using large-scale de-identified electronic health record data," Hoffman said.
Hoffman is the right leader for this position because he is a scientist and a technologist. "It was pivotal for me when I was doing my PhD at the University of Wisconsin-Madison, a biotechnology training program funded by the National Institute of Health. That set me on the path I am on today," Hoffman said. After a short postdoc, he was hired by Cerner and progressed from a software engineer to Vice President for Genomics and Research.
Hoffman was interested in science and engineering from an early age. "A chemistry kit, Lego, and invention were always right there for me," Hoffman recalled. He grew up in St. Louis until high school when his family relocated to the Raytown area. He and his wife have raised a family and built a life in Kansas City. "This region is a hidden gem. I enjoy helping that gem shine, especially through the work we do at Children's Mercy," Hoffman said.
Nexus Informatics Conference Advances Medical Discoveries Through Data
Hoffman has represented multiple regional life sciences organizations, including Cerner, the University of Missouri – Kansas City, the University of Kansas Medical Center, and Children's Mercy- Kansas City. Hoffman has been the chair of the annual Nexus Informatics Conference, powered by BioNexus KC, since 2015.
"I have been involved since its inception," Hoffman said. "BioNexus KC brings a great attitude and energy."
The conference brings together informatics researchers from academia and experts from the industry to discover capabilities, share tactical approaches to problem-solving, explore synergies, and launch potential collaborations. It also allows informatics students to learn about regional employment opportunities and for employers to meet prospective candidates.
Hoffman enjoys traveling and bird watching and, perhaps not surprisingly, keeps good data behind his hobbies. "I have been to six continents and have identified more than 300 species of birds," Hoffman said. "If I seem distracted, it's likely that some animal just went by."
The speed of modern medical research and discovery is improved with technology and the ability to collaborate more effectively. The life sciences community will continue flourishing, with Hoffman and Children's Mercy supporting this mission.
The Nexus Informatics Conference will be held at the Children's Mercy Research Institute on April 20-21, 2023. Register now–> https://kcbioinformatics.org/conference/register/