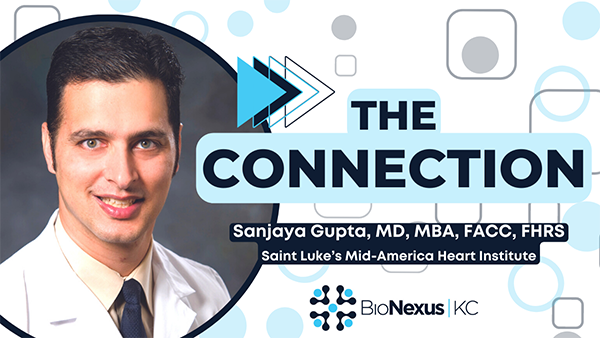 Like all technological advancements, big data and data visualization are only tools; the action they drive is essential. The medical field has been producing new treatments, pharmaceuticals, and research exponentially for decades but, in some ways, hasn't found methods for extracting maximum impact from these discoveries. For Sanjaya Gupta, MD, MBA, FACC, FHRS, a cardiac electrophysiologist at Saint Luke's Mid-America Heart Institute in Kansas City, there is an excellent opportunity to improve patient outcomes and hospital performance with the practical application of these technologies.
Gupta didn't follow a straight line in cardiac medicine, which gives him a unique and valuable perspective. After his undergraduate degree, he completed his MBA and entered the business world, working for a medical device company.
"It truly helps to understand the business side of medicine, and it's not as common as it should be. Ultimately, the business side wouldn't allow me to directly impact patients' lives, so I went back to medical school," Gupta said.
His specialty is diagnosing and treating patients with abnormal heart rhythms by performing catheter-based ablation procedures or implanting devices such as pacemakers or defibrillators. "We joke that cardiologists are either plumbers or electricians. I am an electrician," Gupta said. Working at the intersection of medicine and technology charges Gupta, creating a uniquely exciting opportunity to develop a team with wide-ranging talents.
Use Data to Raise Awareness
At this intersection, Gupta sees profound potential from the direct-to-consumer wearable devices like Apple Watches and Garmin activity trackers combined with commercial outcome data analysis systems like Vizient. "Wearables are raising awareness of heart rhythm and making it the next vital sign people are watching," Gupta said. "And services like Vizient use large, cross-hospital data consortiums to analyze incredibly complex outcome insights better. These metrics and awareness campaigns are a major step in the right direction." From the operating table, there are also a dizzying number of technological advancements opening new levels of care.
Awareness is potentially the biggest opportunity for improvement soon, and there is an excellent example of how it could execute this improvement in campaigns around heart disease.
"In the last 50 years, there has been a focused awareness of arterial heart disease. If you work on your high blood pressure, smoking, diabetes, and cholesterol, you can prevent the progression of heart disease. People took that to action, and it's pretty amazing the impact it has had," Gupta said. "Atrial fibrillation is really common, but we haven't been able to mobilize similar prevention campaigns to raise that awareness."
Use Data to Improve Outcomes
Proper data analysis also provides a massive opportunity for improving outcomes and hospital performance, but there is a catch. "Hospitals and health systems may soon have the opportunity to take some of this data and negotiate with insurers. With well-researched and data-validated insights into their strengths, say around A-Fib and heart disease, compared to other hospitals in the area. With this data, they could leverage it and ask to be the preferred provider for these issues," Gupta said. The catch is that the data must be so solid that it prevents selective manipulation or avoidance of likely adverse outcomes.
Gupta grew up in St. Louis and moved around a bit before settling in Kansas City, where he and his wife secured great opportunities to build their respective medical careers. "There seemed to be a sort of 'big brother, little brother' bias from St Louis to Kansas City, but when we moved here, we found it to be a perfect balance of big city access with small city appeal. KC is truly the best-kept secret in the Midwest," Gupta said. He has been routinely impressed by the amount of medical talent in the area, allowing him a great team to work and grow with at Saint Luke's.
Fully utilizing the available tools can open vast opportunities for improvement with existing treatments and pharmaceuticals. Gupta sees that opportunity and strives to use his unique experience to maximize this potential and create a win/win situation for all involved in the medical industry. If successful, the biggest winners will be the hospitals and patients striving for better outcomes.