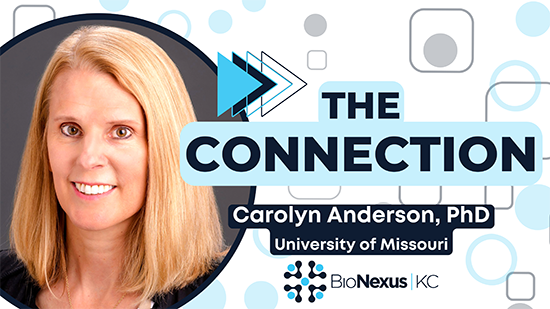 Technology has an almost natural lifecycle. In the early novel phases, it is so effective that it's like magic; in the middle stage, it becomes ubiquitous, and in the end, it becomes obsolete. For Carolyn Anderson, PhD, Professor of Medicinal Chemistry and Radiology at the University of Missouri (MU), the mission is to identify and develop radiopharmaceuticals into a technology that can better identify and treat diseases.
Anderson is a key researcher leading the Molecular Imaging and Theranostics Center (MITC). The center focuses on the chemistry and preclinical studies laying the groundwork to use radio-labeled drugs to discover and treat cancer and many other diseases.
"We primarily focus on cancer with this research, but we also look at the imaging of cardiovascular and sickle cell disease," Anderson said.
MU provides a unique opportunity for researchers in this field by having adjacency to the veterinary school on campus and a research reactor across the street. "We have so much available that most universities don't have. The vet school has a wide complement of imaging instrumentation, including Positron Emission Tomography (PET), a high-resolution CT, an MRI, and an ultrasound. We can do a lot that most places just can't," Anderson said.
Ideal Location for One Health
The goal is to utilize this technology in human patients, but Anderson and her colleagues at the MITC aim to keep their focus on basic and translational research.
"We focus on the chemistry, biochemistry assays, and the preclinical side. But there is a partnership opportunity down the road to use this research to translate to humans and impact their outcomes," Anderson said. "Many people don't realize that radiopharmaceuticals can improve quality of life for cancer patients and the side effects are much less severe than treatments like chemotherapy."
Her career truly began at the end of her undergraduate work at the University of Wisconsin-Superior, when partially on a whim, she applied to a summer school program sponsored by the Department of Energy at San Jose State University. She was accepted, traded Northern Wisconsin for California, and learned of all the opportunities and potential in nuclear chemistry and radiochemistry.
Workforce Opportunity in Nuclear Medicine
During her career, Anderson has seen all types of undergraduate universities and sees something special in the students at MU. "There are a lot of first-generation students working in my lab at MU. These students approach the research excitedly and are committed to getting all they can out of their time. At other schools, the undergrad research can be treated more like a checkbox on the way to med school, and the experience isn't the same," Anderson said. "This lack of excitement about the research and experience limits the number of trained professionals working in the field. "Well-funded startups are looking to utilize the now two FDA-approved theranostic agents, but there are not enough people to do the work," Anderson said.
The opportunity to develop introductory chemistry, radiopharmaceutical treatments, and downstream technology is starting to solidify. Once it does, previous medical technologies will likely fade into their later phases. Researchers like Anderson make the most of all opportunities and continue to drive this work forward, aiming to realize improved patient outcomes, family impact, and overall health. That future isn't far away.