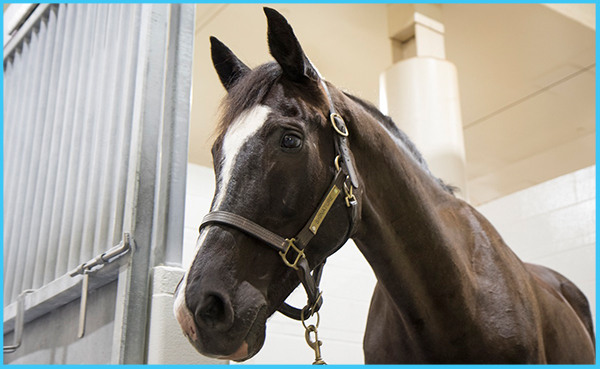 After 16 years, an inseparable bond between a woman and her horse was on the verge of collapse.
Together, Cynthia Russell, a professor at the University of Missouri-Kansas City's School of Nursing and Health Studies, and her horse, Signature, had competed in dressage, a sport where horses and their riders perform a series of predetermined movements from memory in front of judges.
But those competitions were put on hold in April 2018 when Russell received a call from Alison LaCarrubba, an associate teaching professor at the University of Missouri's Veterinary Health Center. While LaCarrubba was conducting a dental check up on Signature in Kansas City with the MU Equine Ambulatory Service, she noticed something wasn't right. Signature had atrial fibrillation, a heart condition that creates a quivering or irregular heartbeat.
"Atrial fibrillation is the most common detrimental rhythm disturbance in horses," said Philip Johnson, professor of equine internal medicine in the MU College of Veterinary Medicine. "The most common clinical sign of this in horses is reduced physical performance."
Russell, upon learning the news, immediately took her horse to Columbia. At the MU College of Veterinary Medicine, Johnson treated Signature with quinidine, a liquid medicine derived from the bark of the cinchona tree and used to prevent arrhythmias. Shortly after receiving quinidine, Signature's heartbeat was reset and returned to normal. However, due to the medicine's potential side effects, such as gastrointestinal disturbances and difficulty breathing, Johnson and his team kept a watchful eye over Signature's recovery.
"I heard that Dr. Johnson spent many nights at the equine clinic making sure everything was going well with Signature," Russell said. "I am thankful for him and his team of vet students who watched over my horse and took great care of him."
The University of Missouri's Veterinary Health Center offers around-the-clock staffing, access to veterinarians and technicians who work specifically with horses, as well as specialists in equine cardiology and appropriate monitoring equipment. Veterinarians throughout the Midwest refer patients to MU's Veterinary Health Center for specialized diagnoses and treatment due to its state-of-the-art management and medical services.
"What stood out to me was the unique blend of cutting-edge expertise, stellar facilities, and extremely caring and concerned faculty, staff and students," Russell said.
Following the visit to Columbia, Russell began riding her horse again. This past April, exactly one year after the initial diagnosis, Russell noticed Signature seemed tired at a competition, and she used a stethoscope to listen to her horse's heart. The irregular heartbeat had returned. Russell returned to Columbia, where Johnson provided more quinidine while also monitoring the horse's heart rhythm using an electrocardiogram. Signature's heartbeat was reset successfully, and while Russell hopes to perform with Signature in the national dressage show this fall, she knows this condition may return.
"If it wasn't for the care Dr. Johnson and his team provided at the MU College of Veterinary Medicine, Signature would be retired from competing and would probably be living out the rest of his life in a pasture," Russell said. "After being with him for 17 years now, I think I was able to sleep at night a little better knowing that he was being monitored so closely in Columbia."
Johnson emphasized that many people assisted in Signature's treatment and care, including veterinary residents and interns, veterinary students, technicians and members of the specialist veterinary cardiology team.
"Now when I listen to his regular heart rhythm every day, I'm so appreciative of his good health and well-being," Russell said. "Whether we are galloping across the field, dancing to our dressage music at a horse show, or simply walking on the trail, we are one in heart and soul."
In addition to horses, atrial fibrillation is also the most common cause of irregular heartbeat in humans as well. While atrial fibrillation slows down horses' physical performance, humans can suffer from blood clots that block the critical flow of blood from the heart to the brain, leading to the possibility of stroke or loss of consciousness.
In both horses and humans, most instances of atrial fibrillation occur in the absence of any underlying disease. Once atrial fibrillation occurs in horses and humans, there is an increased risk that the condition will come back in the future. Despite these similarities, advances in human medicine have led to different treatment options for human patients with the condition.
"For the most part, we do not use quinidine in humans anymore due to its side effects, and the fact that we now have treatment options that are safer for the heart as well as the rest of the body," said Anand Chockalingam, MD, an MU Health Care cardiologist. "There is a procedure called atrial fibrillation ablation, where catheters are placed in the heart to create a roadmap of the heart's electrical circuits, and disrupt the faulty electrical signals that are causing the irregular heartbeat."
The minimally-invasive procedure may not be suitable for some human patients depending on their age or other health complications. However, the new technology, which was first developed about 20 years ago and has been refined and improved ever since, is now approximately a two-hour procedure done in a cath lab that instantly resets the heart and improves the lives of those suffering from atrial fibrillation.