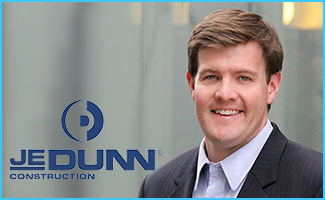 Nature is planned, deliberate, and gradual but when it is finished it can accomplish something truly grand. When a good plan is executed, with every component doing its job, the result can be spectacular. Kansas City's influence as a regional center for animal and human health has been decades in the making and Eric Danielson, Director of Science and Technology at JE Dunn, has been a key component in making it into something grand.
Danielson prides himself on his and JE Dunn's impact on the scientific community in Kansas City. "We're always seeking the best facilities for these different higher education partnerships to make sure they can go and do the highest performing research that they have the capabilities for," Danielson said. Some of these partnerships include Stowers Institute for Medical Research, the University of Kansas School of Pharmacy, and the University of Missouri.
When JE Dunn launched the science and technology group five years ago, there was a clear intention to focus on the Midwest region. As they dug into the life sciences sector, they realized they had an incredible opportunity to work with all 20 offices. They collect best practices from other regional clusters, like the Research Triangle Park in Raleigh, NC and the Stanford Linear Accelerator in Palo Alto, CA. Danielson says that by expanding into other markets, JE Dunn can pull experience from other life sciences communities to help continue to build the Kansas City region. "As we think about how a rising tide can continue to raise us all, we are going to continue to bring more business and more work to Kansas City."
Danielson's current role comes from an authentic source, but not one of construction. He earned his degree in Environmental Science at the University of San Diego and his first job upon returning to Kansas City was at the Lenexa Chamber of Commerce. Danielson drew from his science background to help establish the Kansas Bioscience Authority to accelerate growth in biosciences. He was tasked with surveying the 40+ bioscience companies in the region in 2004. "It was a great opportunity for me to see these companies, get a better understanding of what they do, and how they needed to be set up for success in the region," Danielson said.
Danielson lives in Shawnee with his wife, Allison and their three kids.  They have set a lofty goal to see all 60 of America's National Parks before their oldest child, 12, is out of college. Their total climbed to 28 last year when they explored Glacier National Park in Montana, the Channel Island National Park off the coast of Southern California and Redwood National Park in California. If you're a Kansas Jayhawk fan you may recognize him for his other job, the public-address announcer at Allen Fieldhouse for the men's basketball team. Danielson loves living in Kansas City and enjoys being an advocate for what the life sciences industry has been able to accomplish and how well they've been able to do it.
For the last 10 years, Danielson has served on the boards of the Missouri Biotechnology Association and BioKansas. "My role within both organizations has been on the planning and programming side, where we focus on events that draw people together, while making sure that we are providing value to the community," Danielson said. "I've spent a lot of my time getting the best people here and making sure that the topics being presented can really make a difference."
Just like nature, good plans take time, and the life sciences industry has benefitted considerably from JE Dunn. Danielson's career didn't make him a researcher and he wouldn't consider himself a lab rat, but he knows what they need, and he knows what he can do to help.