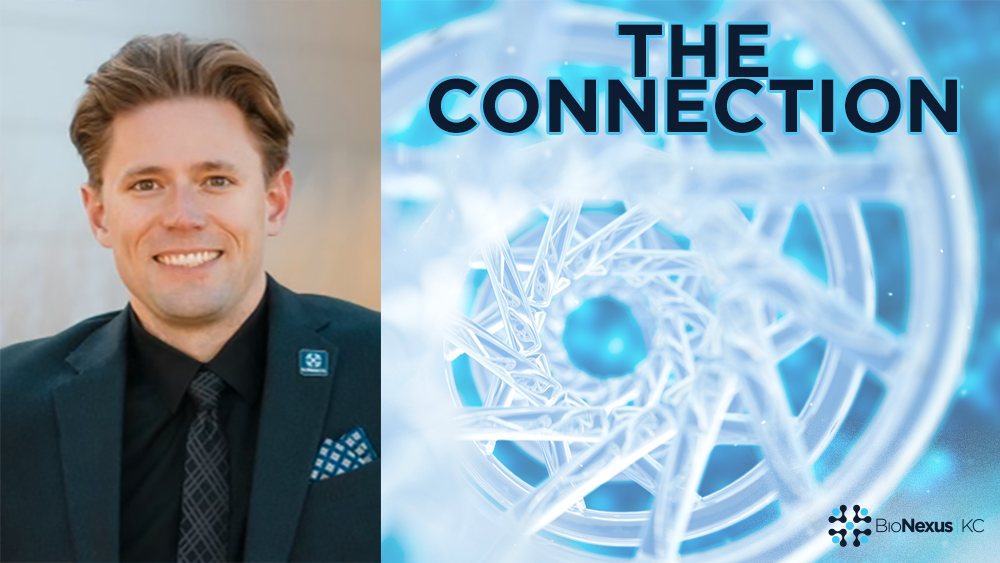 Most remarkable things are the result of simple components, exceptionally executed. Upon identifying purpose, the next steps of assembling the right team and implementing a strategy are crucial to success. For Daniel Kennedy, Vice President of BioNexus KC, he aims to design and integrate these elements to amplify and expand life sciences and healthcare innovation in the Kansas City region. 
Upon his arrival in early 2022, one of the first things he appreciated was that BioNexus KC was fully supported by the life sciences community. "It's the first time I have ever seen a group so well positioned and in alignment," Kennedy said. Having previously worked for private, for-profit companies, this role is new and with it comes an exciting learning curve. "Because research can be so variable, I often feel like I am learning something new every day and that creates a steep learning opportunity," Kennedy said. "I have a slightly different lens and can bring a unique and valuable perspective." 
During the transition into the non-profit position, purpose was powerful and important to Kennedy. "This new role is empowering," Kennedy said. "The opportunity that I have can ultimately help people on a big scale." This scale is due to the position that BioNexus KC represents for life sciences organizations in the region. "People within the industry want our help and to see the area grow. With this arrangement, they look towards collaboration, quite often more than they focus on competition," Kennedy said. 
Being able to achieve a scaled impact depends on the existence of a strong organization, and Kennedy champions several opportunities for BioNexus KC to scale even further. Currently in development is the establishment of a more robust ecosystem around the innovation pipeline and the KC Nexus Fund. Kennedy believes that with an expanded partner pool and funding resources, the contributions and investments in these initiatives can spur a greater downstream effect. "Almost every meeting that I am in, I can see how our organization's initiatives serve the broader ecosystem. We regularly check in with leading entrepreneurs, researchers, and stakeholders to ensure we can sustain a widespread, positive impact," Kennedy said. 
Kennedy has identified an opportunity to strengthen the data driving the organization. The return on investment of BioNexus KC is noteworthy but could be expanded. "There is significantly more information fueling donors' decisions and where they commit their funds," Kennedy said. "They need to see that we are good arbiters of their money, and we do that through metrics and data analysis. We could have a dedicated manager that could develop our data sets and use them to tell a compelling, complete story of what donor contributions are accomplishing." 
Kennedy was born in West Des Moines, Iowa but raised in Overland Park, Kansas. Neither of his parents work in the scientific field but were clear with their expectations early on. "They were consistently telling me to set lofty goals, communicate them often, and trust in myself," Kennedy said. He credits his ability to communicate exceptionally to his mother, a Client Insights Director at H&R Block in Kansas City and credits his opportunistic nature to his father, who is a natural salesperson in the architectural space. "He taught me how to challenge ideas around me and come up with my own way of thinking," Kennedy said.  
Kennedy did not follow a precise path into healthcare. His early secondary education was focused more on mathematics and engineering. "I didn't become interested in healthcare until later in college and I more fell into it," Kennedy recalled. He had a professor and mentor who was an engineer, and he enjoyed the problems he was solving and the impact he could generate. "My mom had a saying that life is best when you're helping people, and that weighed in on my decision to change majors," Kennedy said. The engineering department at Purdue University required a test before admission that gauged skills and affinities. Kennedy scored favorably on the exam and made a quick decision to adjust his course and focus on Biomedical Engineering, a field of research that could directly help people.  
This method for immense impact is in motion at BioNexus KC. There is a purpose driven team working together to advance and amplify regional life sciences. Innovation is here in Kansas City, fueled by a collaborative intent that pushes the region towards growth. Kennedy has set lofty goals and is motivated to take BioNexus KC to a scaled impact. The time is now to accomplish it.