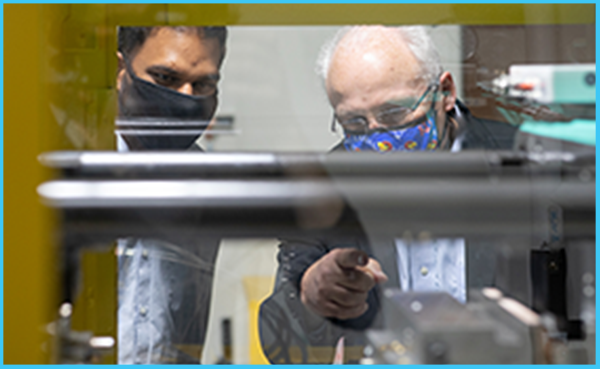 An at-home COVID-19 testing device developed by a University of Kansas (KU) professor is another step closer to hitting the market. 
BioFluidica, a company co-founded by Steven Soper, PhD, announced earlier this year it has received $6 million in Series B2 financing to help bring its LiquidScan instrument to production. Soper — who is a Foundation Distinguished Professor with appointments in the School of Engineering and Department of Chemistry — has spent much of the last two years repurposing the "lab on a chip" technology he had previously developed to give doctors simple tools to more easily and quickly diagnose conditions ranging from stroke to different cancers. 
The financing should help BioFluidica fund some of the next steps in the process, including testing, FDA approval, and marketing. 
"Doing something in the research lab is hard and challenging. Taking it to the next level of a consumer product is daunting," Soper said. "All of these things have to be in place, and that's a major undertaking." 
Prototype testing was underway in the summer of 2022, with production possible by this fall. 
The LiquidScan device can fit in the palm of a user's hand — it measures about 8 inches long, 3 inches wide, and 3 inches deep. At-home users would put saliva on the test chip, then use a hand-held electronic reader to analyze the results. The entire process would take around 15 minutes. Users could buy a test for about $10 and the reader, which can be reused many times over, for about $50. 
The emergence of new COVID variants like Delta and Omicron shows that there will be a continued need for such technology, Soper said. 
"Testing will never go away. It's now becoming more important," he said, adding that the LiquidScan device should be adaptable. "It's easily tuned to accommodate new viruses, and there's going to be new variants that pop up every year. We'll be able to take this test and screen for that." 
That versatility means the device will also have other uses. Soper said collaborators at KU Medical Center, including cancer researcher Andrew Godwin, are looking to use it to screen patients for early detection of ovarian cancer. In contrast, others hope to use it to diagnose people experiencing ischemic strokes quickly. 
"I have a lot of hope for this technology. This never have been realized without several things — including, number one, the resource capabilities at KU," Soper said, referring to the Ralph N. Adams Nanofabrication Facility in Gray-Little Hall. 
KU Medical Center has also been instrumental, providing samples for Soper's team to use as it fine-tunes the device. "An instrument is no good unless you can test it on real clinical samples," he said. "This is a great example of teamwork between KU-Lawrence and KUMC." 
Soper earned his doctorate in bioanalytical chemistry from KU in 1989 and returned to the university as a faculty member in 2016. Funding to develop the COVID-19 test comes from the National Institutes of Health RADx Program. 
By: KU