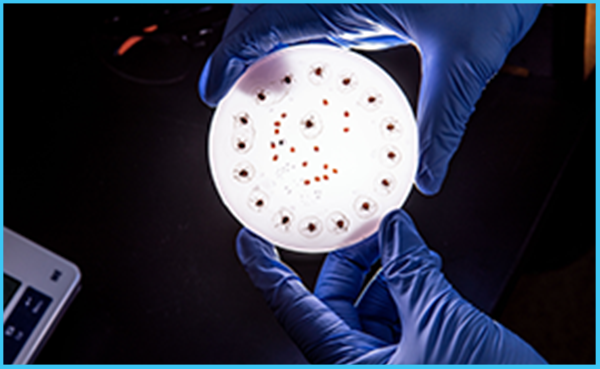 According to the Centers for Disease Control and Prevention, tick-borne disease cases increased from 48,610 in 2016 to 59,349 in 2017 alone, but actual cases are estimated to be much higher. Eighteen tick-borne diseases that affect humans have been identified in the United States, the most common being Lyme disease, anaplasmosis, ehrlichiosis and Rocky Mountain spotted fever. Tick-borne diseases also affect animals. 
Multiple K-State researchers are working on projects to address the threat. 
At the K-State  Center of Excellence for Vector-Borne Diseases in the College of Veterinary Medicine, Roman Ganta, center director and professor of diagnostic medicine and pathobiology, his team and affiliated scientists are on a mission to build an internationally recognized program that combats diseases from vectors, which are living organisms like ticks and mosquitoes that can transmit infectious pathogens. 
Since the center was founded in 2015, Ganta has generated more than $9.56 million in competitive research grant support, with the majority — $8 million — coming from the National Institutes of Health. The funding supports basic and applied research to develop vaccines for several tick-borne diseases that affect people, dogs, and cattle, including anaplasmosis, ehrlichiosis, and Rocky Mountain spotted fever. 
In the lab of Kathryn Reif, work is dedicated to identifying innovative solutions to combat ticks and tick-borne pathogens of medical, veterinary, and agricultural importance. The collaborative research spans basic to translational and involves several K-State researchers and graduate students. 
Reif, K-State assistant professor of diagnostic medicine and pathobiology in the College of Veterinary Medicine, uses several grants from the US Department of Agriculture, Food and Drug Administration, and various foundations and organizations to study bovine anaplasmosis. 
Another Reif lab project focuses on feline cytauxzoonosis, a tick-borne disease of cats caused by the parasite Cytauxzoon felis. Although feline cytauxzoonosis is frequently fatal in domestic cats, some cats do survive and become pathogen hosts. 
Berlin Londoño, assistant professor of entomology in the College of Agriculture, mixes her primary research on mosquito-borne diseases with studies on tick salivary proteins. Londoño wants to develop tools to measure the intensity of exposure to arthropod bites. 
The Londoño lab has identified several mosquitoes and ticks with salivary proteins from Aedes and Anopheles mosquitoes and lone star ticks that induce significant antibody levels in humans. She and her team are measuring those antibodies to learn more about the risk of suffering a disease. 
Read the full story in Seek magazine.