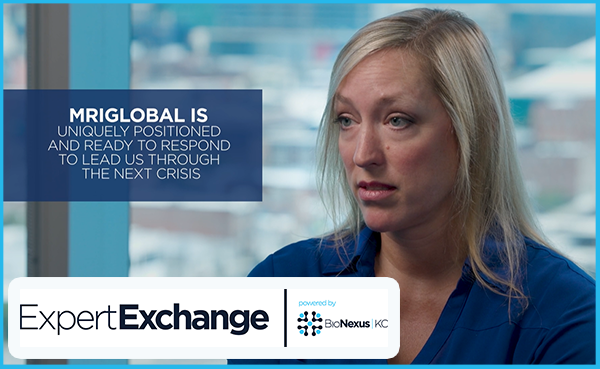 Five years ago, few people understood how to respond to a pandemic. Today, most are painfully aware of the lifecycle of infectious diseases and how the world reacts to them. For Kristine Werking, Disease Diagnostics Director at MRIGlobal, her mission is to build and improve tools to respond to the next outbreak, epidemic, or pandemic more effectively.
The medical community's response to an infectious disease outbreak follows three primary phases. The first phase is identifying the disease. This is when an understanding and diagnosis are formed, and a cause is established. The second stage is developing therapeutics; the final phase is administering treatment to those in need.
The first phase is the tensest, with the most significant opportunity for improvement. In the early stages of an infectious disease outbreak, diagnostic tools are not widely available, which presents a high impact risk to public health. "Our team, made up of scientists and strategists, strives to have an impact that benefits people directly and powerfully. Through innovation, we accelerate our clients' work, getting their diagnostic products in people's hands faster, potentially saving lives," Werking said.
If the diagnostic tools can identify the characteristics of the new disease on a tighter timeline, then suitable therapeutics and treatment plans will be generated faster, saving more lives. "Infectious disease can have such an impact on communities and global populations. If not contained, they can be crippling both to health and global economies," Werking said. Her team has found ways to rapidly generate data for EUA testing and submissions, sometimes compressing the timeline from months to weeks, helping products get to market in record time.
Werking leads her team out of the MRIGlobal headquarters in Kansas City. This provides a unique opportunity to collaborate with a diverse sampling of research and industrial centers. "Kansas City is an excellent place for expansive collaboration. The depth of life and agricultural sciences expertise is outstanding, bringing an advanced focus on public health advancement and One Health Initiatives," Werking said.
It did not take Werking long to realize she was in the right place at MRIGlobal and Kansas City. "It took a month. After seeing the depth of the science, the partnerships and support available, the impact that our work had, and the collective mission and purpose of everyone I was working alongside, I had a deep 'aha' moment, and I knew I was where I needed to be," Werking recalled.
Werking was a scientist from an early age. She was always the one in school asking curious questions, and she hopes to be an example for young women today, including her four children. "I want to inspire kids today to stay curious and to look independently to find creative ways to do things," Werking said. She sets an example for her family by encouraging them to explore nature at every opportunity and investigate how living things fit together.
With the added community knowledge of infectious diseases and the impact they can have on the entire world, Werking continues to refine the diagnostic tools that make the population safer and find new ways to do it faster. In partnership with the federal government and commercial customers, the medical community will be better prepared for the next viral variant than the last one. The impact of this improvement will be measured in lives saved and crises averted.