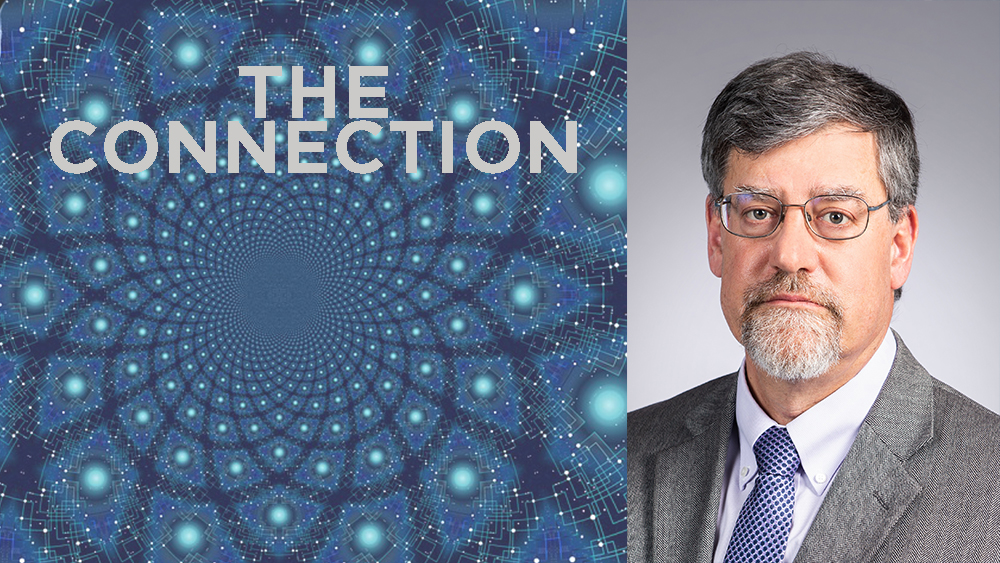 When thinking about the effects of radioactive exposure, most people's minds may wander to nuclear power plant meltdowns or spider bites, but for Dr. David Robertson, Executive Director of the University of Missouri (MU) Research Reactor, the impact ranges from providing a better understanding of ancient cultures to giving cancer patients more time with their loved ones.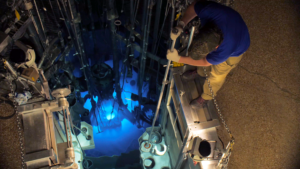 Since 1967, the MU Research Reactor (MURR) has been the highest-powered university research reactor in the United States. Operating year round at 10-megawatts output provides the opportunity for a reliable source of both research and production of life-saving radiopharmaceuticals. Robertson leads a team of nearly 200 employees and students on the MU Campus.
In addition to the role with MURR, Robertson is also a professor of chemistry, specializing in radiochemistry. He uses radioactive materials to either study the effects of radiation on known items, or to use these materials to provide an enhanced way of observing things in chemistry not ordinarily seen. Over the last decade, MURR has developed the processes and infrastructure to provide multiple radioisotopes for use in diagnosing and treating disease. These isotopes include the key ingredients used to treat thyroid cancer, the pain of metastatic bone cancer, a treatment for inoperable liver cancer, and a treatment for neuroendocrine tumors of the midgut. "Each and every week MURR is the sole domestic provider of these lifesaving radioisotopes." Robertson said.
Another application that stems from the MURR facility is archaeometry, where the reactor is used to analyze ancient materials. This helps researchers understand how ancient people sourced their materials to create tools or ceramics. "Recently, Dr. Brandi MacDonald, a research professor at MURR, published an article on the oldest ochre mine in the Americas. As part of the investigation, a team had to dive through a cave in Mexico. Just to give a feel for the breadth of what is possible," Robertson said.
In addition to teamwork and making this kind of practical, real-world impact, Robertson found his calling to be a teacher early and takes great pleasure in getting students engaged in the field. "In my junior year at MU, there was a need for teaching assistants in the Department of Chemistry. I did that for 3-weeks and then called my parents and told them that I had found what I wanted to do," Robertson said.
Robertson is proud of the contributions of the MURR program for what it is doing and for what it will do. MURR worked closely with Advanced Accelerator Applications, a Novartis Company, to bring a lutetium-177 based therapy called Lutathera to market for the treatment of neuroendocrine tumors. Following the success of this treatment, the collaboration is now focused on using the same isotope to treat metastatic castration-resistant prostate cancer. The US Food and Drug Administration recently granted breakthrough therapy designation for this very promising radioligand therapy. "We are investing in the Radiopharmaceutical Research Program, which is going to be part of the NextGen Precision Health initiative. We would like to see further development of the next generation of radioactive drugs right here at MU," Robertson said.
Even though the reactor is going strong and contributing to the region and the country every day, there is an acknowledgement and awareness that the reactor itself is over fifty years old. "An ideal option would be to build a new 20-megawatt research reactor on Discovery Ridge in Columbia, MO. Our mission is to keep MURR running safely and reliably, as downtime this week has a national downstream effect on drug production for patients next week. The reactor is 54 years old, and we need to start the conversation of what's next," Robertson said. The MURR facility has had its operational license extended through 2037.
Robertson completed his undergrad at MU and would have been on the track to become a doctor, without the exposure as a teaching assistant. "I just loved teaching. I love the opportunity to be in a classroom and guide people to understanding. I figured I would take some education courses and go teach science at a high school. But when faculty from the Department of Chemistry at MU heard that, they literally stopped me in the hallway and read me the riot act. They knew my record and told me I needed to go on and get my PhD and pursue an academic career," Robertson said. Beyond his current roles, he likes to extend his learning to literature and history, and working on his garden and acreage, reintroducing native Missouri trees and plants.
The range of benefits from nuclear science and radiochemistry is impressive and that is only with what is currently known. Usage of radioactive materials to view and treat diseases is only part of the equation. What Robertson wants to ensure is that the MURR, Missouri and the region can continue to contribute to this sector and lead the discovery in healthcare.