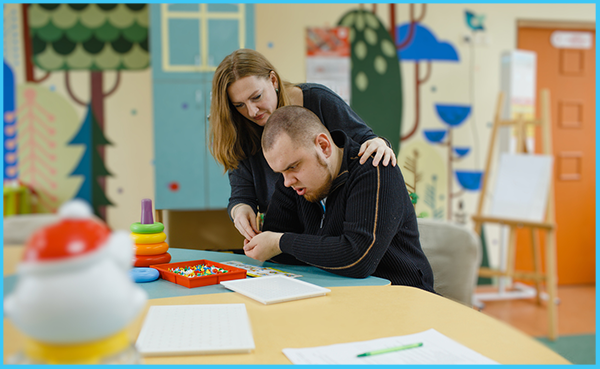 Seventeen-year-old Gerald Mitchell's eyes light up when talking about his favorite PlayStation games.
Mario Kart is his favorite. He slips a quick smile, then looks down, reaching for his mother's hand.
Gerald was diagnosed with autism at two. But he is a teen now, reaching the end of his high school days.
"It's emotional," said his mom, Michelle Mitchell.
Gerald is timid, a chatterbox with certain teachers and friends he trusts. As he reaches young adulthood, the family's focus is on the next several years. They are prioritizing two things.
One, teach him social skills to build community outside of the family.
Two, transition from his school's Individualized Educational Plan to a career trajectory program. This is a point of tension for many families who face hurdles once their children turn 21.
Efforts by the Kansas University Center on Developmental Disabilities (KUCDD) focus on just that. In January, KUCDD was awarded a five-year, $2.9 million grant.
A Common Story
Notably, school-to-workplace transitions are one of the "most pressing needs in the disability community," a new report shows. Recently, statewide listening sessions supported by KUCDD helped identify the top three needs.
The other two are to bolster behavioral and emotional support and to build more statewide, community and government partnerships.
To identify these needs, KUCDD collaborated with the Consumer Advisory Council and Kansas developmental disability network organizations. Their focus was community engagement. The researchers integrated community feedback and lived experiences.
The grant from the Administration for Community Living helps KUCDD expand and bridge the gaps in resources, such as transition programs. For families navigating long, at times inconvenient, meetings and complicated applications, the needs are great.
Based at University of Kansas Life Span Institute, KUCDD is part of a nationwide network of 65 other centers that do similar work. The center's core activities are "research, community service, training and education, and information dissemination."
Karrie Shogren, director of the KUCDD, said the post-secondary-to-career transition has long been an issue. In response to Flatland's 2018 report on a family struggling to find career pathways for their son with autism, Shogren said that story is all too common.
You'll hear the exact same things today, which really is the problem," she said.
Her center wants to find solutions to the problems parents like Kim Riley and Michelle Mitchell face.
Researchers like Shogren are also cognizant that people closest to the issue need to be empowered and drive conversations forward.
"That ability to kind of drive your goals and advocate for yourself is just essential to navigating these complex systems," she added.
Shogren's research focuses on transition, which is a persisting source of stress for families who are unsure what to look for next.
"When you move into the adult world, you have to be eligible for services," she explained. "Kansas currently has 10 year waiting list for (Home and Community Based Services) HCBS services. It's a very fragmented system."
For context, HCBS primarily serves people with Medicaid and those who qualify for social security disability assistance. In Kansas, almost 14% of Medicaid enrollees are folks with a qualifying disability. It aims to provide oversight of community programs that include in-home or community-based care.
A Focus on Expanding Supports
Folks often fall through the cracks when they age out of high school support systems and begin the social security maze in young adulthood.
Moreover, disability advocates and policy researchers point to complicated applications, earning limitations and how some social security programs work against the needs of the people it was built to serve.
The Mitchells have been intent on securing a plan for their son. This year, he is in the Missouri Youth Leadership Forum, a summer leadership program designed to support youth with disabilities between 16 and 21 years old. They don't know what comes next.
Even though some families like Gerald's find programs to ease them through the transition period, not all can. It is a lottery system.
Apply, hope for the best and try to make ends meet in the meantime.
As Shogren and her colleagues continue their work, backed by additional funding from the federal government and the grant, the goal is to build on previous research and empower those navigating complex systems to share their perspectives.
"We're really trying to make sure that people have access to these inclusive opportunities," Shogren said.
By: Vicky Diaz-Camacho, Flatland KC
View more from the Nexus Spotlight