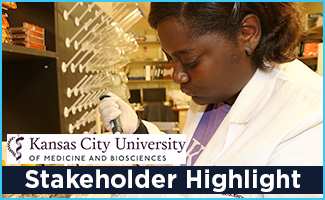 Cheyennae Barbee has always considered herself an over-achiever. So it shouldn't come as a surprise that she won her first poster award as a graduate student at the annual meeting of One Health Day held recently on the campus of Kansas State University in Olathe.
Barbee's research, "Study of Xpna Anemic Mice Suggests Existence of a Novel Factor Impacting Erythropoiesis,"  concerns the discovery of a potential new protein or pathway that would allow the creation of red blood cells in the presence of anemia.
"It was cool to be part of the event," she said. "KCU is an emerging institution for research. You meet people from all over the area and have the opportunity to make new connections in the science world."
Barbee, a native of Culpepper, Virginia, and graduate of Virginia Commonwealth University, works in the lab of Robert White, PhD, dean of the College of Biosciences at Kansas City University of Medicine and Biosciences (KCU), as she earns a master's degree in biosciences. She hopes the research experience will help her gain admission to medical school, but more than that, she hopes to make a difference.
"Bottom line is that we hope to be able to help people with anemia or bone marrow failure by bringing in a new protein or pathway that could be manipulated to help people produce the appropriate blood cells they need."
Barbee chose the two-year master's track at KCU because it allows her more time to be engrossed in research. "I can take two classes and come in the lab for the rest of the week," she said. "It gives me a lot more time to learn what I need to know."
Barbee has her sights set on a career as a physician/scientist — a cardiologist treating patients and researching the effects of heart disease on African Americans, who are disproportionally impacted by the disease. "Heart disease has affected my family a lot," she notes. "For me, the most important goal is to help people like my family be healthier."