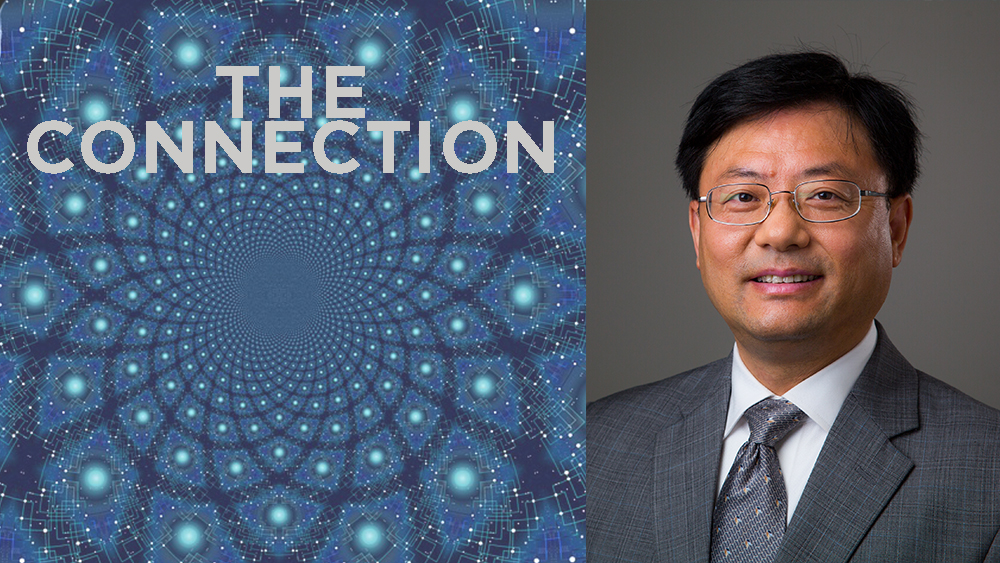 Great research performed by brilliant people is not always enough to acquire funding, grants, or a future on its own. The process behind grant writing, budget creation, and proposal development are all services that even the best universities need to execute and teach exceptionally well to bring their research enterprise to the next level. For Dr. Chris Liu, Vice Chancellor for Research and Economic Development and Dean of the School of Graduate Studies at the University of Missouri – Kansas City (UMKC) building a robust research infrastructure to empower and support researchers and graduate students is his daily mission.
Servant leadership is at the core of both of Liu's roles at UMKC. As Vice Chancellor for Research, he serves not only the students, researchers, and faculty, but also the university's vision of the future. In 2018 the university launched its 10-year strategic plan that targets doubling their research expenditures by 2028. "We have to make sure the infrastructure is there, and the culture is shifting towards a pro-research environment," Liu said.
Beyond providing researchers and students with opportunities to get their work funded, Liu strives to build the serviceability for all faculty. "We have to create effective training programs and platforms to help faculty get familiar with what grantsmanship processes are, where funding opportunities are, what the federal funding trends are, and encourage the research office staff and researchers to work together as seamlessly as possible. With cooperation there are instrument grants that enable expansions of the facilities themselves, to build out the environment for present and future research," Liu said.
In his second role as a Dean, Liu serves the graduate students of UMKC by creating the best environment for learning and growth. "The most enjoyable thing for me is when a graduate student can tell me 'They came, they saw, they evolved, and they were transformed.' Then I get to watch them become useful, good citizens for society," Liu said.
Transcendent of each role, Liu strives to change the way those in his sphere of influence approach research at a base level. He calls it a development of a four-dimensional way of thinking. The first level is a mono-discipline, where there is one focus or major, but still siloed. The second level is multi-disciplined where an individual has two foci, but they are still individually compartmentalized. The third approach is inter-disciplined, where multiple emphases are integrated to produce specialized results. The fourth dimension Liu calls transdisciplinary, where there are multiple focal points fully integrated with another dimension beyond academia, such as civil or societal that can be combined into research. "When we are doing research or when I'm talking with faculty or students, I'm sharing this four-dimensional approach. We are facing a very complicated societal need and we need to equip students with this mindset to always evolve and bring a diverse perspective," Liu said.
Liu was born and educated in China, completed his postdoctoral work across three continents and came to the US in 2001. Beyond the administrative building, he is also a researcher. He studies fossilized plant material to better understand the plant world in the geological past and how it could impact our current global warming trends. Twenty years ago, Liu visited Canada's High Arctic and excavated and explored a fossil forest site. This research is useful in understanding the environment from 45 million years ago when the Arctic was warm enough to support a lush forest close to the north pole. These findings can assist the scientific community in understanding how the environment changes and adapts.
Liu became interested in science and research early in college. "I was amazed how powerful research could be and how it helped everyone do so many things," Liu said. This curiosity drives him to create a better atmosphere for others at UMKC and to dig deeper into his research. Prior to coming to UMKC, Liu served as Associate Vice President of Research at California State University at Fullerton.
Liu sees Kansas City's potential for regional growth and is proud that his role can make an impact for this only urban research institution in the metro. The community benefits from its rich culture and diversity, as it produces differing viewpoints into conversations and encourages deep collaboration, according to Liu.
Liu and UMKC have set high goals for the next decade and are making strides towards building facilities, capabilities, and their vision of the future. This collective mission will continue to develop a rich and productive environment to increase funding and encourage exceptional research, done by brilliant people in Kansas City.