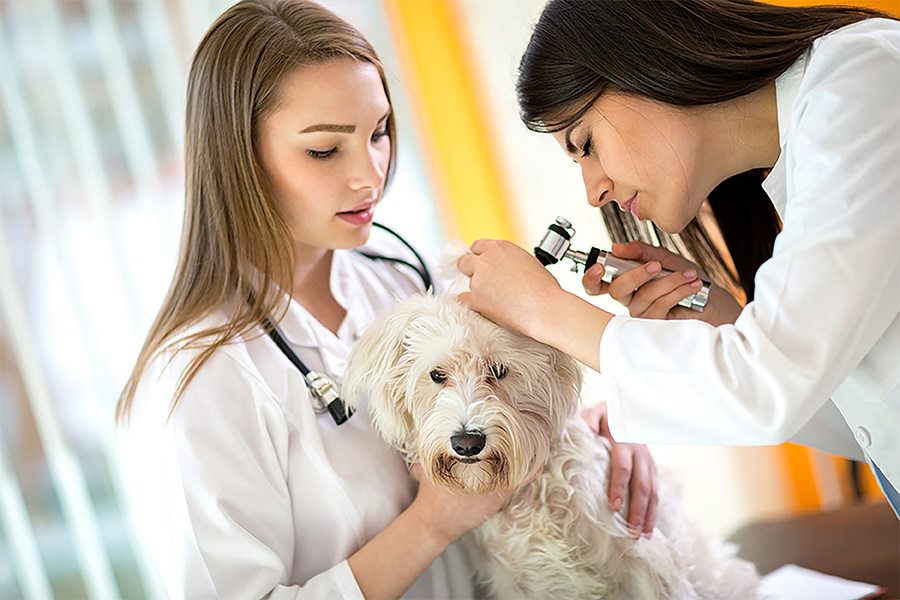 For Immediate Release: December 10, 2020
KANSAS CITY, MO – BioNexus KC and the Hall Family Foundation have awarded four regional researchers $50,000 each to promote One Health, human and animal health innovation. For the 5th consecutive year, the two organizations partnered to award the Nexus of Human and Animal Research Grants to work toward BioNexus KC's regional vision: "Kansas City is a global leader at the nexus of human and animal health benefitting all our citizens and the economy."
"This is the last cycle of the Nexus Animal and Human Health grants funded by the Hall Family Foundation," said Dr. Keith Gary, Vice President of BioNexus KC. "The intent of their four-year, $750,000 grant was to incentivize research at the Nexus and the results have far exceeded expectations! These initial grants resulted in follow-on funding to the region of over $6 M to date – a return of over 8:1. We anticipate that number to grow as newly awarded grants compete for additional external grant funding."
A brief description of each grant recipient's research is below.
Novel Technology will Explore Canine ALS Model
Amyotrophic lateral sclerosis (ALS) is an always fatal neurodegenerative disease in which a person's brain loses connection with the muscles. Canine degenerative myelopathy (DM)is an inherited, progressive neurodegenerative disease with clinical, histopathologic, and genetic parallels to ALS. Dogs with DM are a naturally occurring animal model of ALS as the link between the two diseases is a shared genetic mutation.
Dr. Joan Coates from the University of Missouri will explore the effectiveness of a novel technology, optimized at the Stowers Institute for Medical Research, to understand the treatment of DM and further the research to find a cure for both diseases."We need to develop a better understanding of the earliest nervous system pathology, which lies in a group of sensory neurons called dorsal root ganglia (DRG), and how this pathology spreads over time. This will enable us to identify targets for therapeutic intervention," Coates said. "This award will facilitate collaboration and cross institutional sharing of technology and expertise."
Constructing Arteries to Address Heart Disease
Plaque build-up in your arteries causes a condition known as atherosclerosis and may partially or completely block blood flow through large or medium sized arteries throughout the body. This can result in conditions such as stroke, coronary artery disease, peripheral artery disease, or kidney problems. The cause of atherosclerosis isn't completely known.
Dr. Shih-Kang Fan from Kansas State University aims to develop a thorough understanding of canine resistance to atherosclerosis. "Dr. Mark Weiss and I intend to explore these mechanisms and advance preventative methods in humans," Fan said. "We will use the electro-microfluidic technique to make 3D microenvironments biomimicking the artery condition on a chip."
More Effective Antibiotic Usage Aims to Reduce Canine Drug Resistance
Nitrofurantoin is an antibiotic used as a first line of treatment for some bacterial infections in humans. A different antibiotic is often used to treat canine urinary tract infections, despite global concerns about the development of antibiotic resistance.
Dr. Emma Meyer from the University of Missouri – Kansas City will be studying the use of nitrofurantoin as an alternative antibiotic when treating dogs with urinary tract infections (UTI). She will analyze and study plasma and urine upon administering the nitrofurantoin monohydrate/macrocrystalline to accurately create appropriate dosing guidelines for veterinarians treating dogs with UTI's. "This project addresses a major public health concern—antimicrobial resistance—by providing an evidence-driven therapeutic alternative for animals to reduce the use of critically important antimicrobial drugs," Meyer said. "This means animals still have effective drug options without contributing unnecessarily to antimicrobial resistance."
AI Accelerates Pharmaceutical Assessments for Patients with COVID-19, Underlying Conditions
1DrugAssist is an intelligent medicine recommendation system used to endorse the most appropriate medication for patients with a wide range of medical conditions such as cancer, chronic kidney disease (CKC), immunocompromise state, obesity, chronic obstructive pulmonary disease, cardiomyopathy, heart failure, coronary artery disease, hypertension, sickle cell disease, and diabetes.
Dr. Majid Jaberi-Douraki from Kansas State University is using this tool to identify adverse drug events (ADE) which help health care providers when treating patients with COVID-19 and underlying health conditions. "With the advent of COVID-19 associated acute respiratory distress syndrome in these already high-risk populations, identifying specific drugs with the least adverse pulmonary safety profiles would be beneficial," Jaberi-Douraki said. "In finding alternative therapeutic candidates to combat both COVID-19 and underlying diseases, we have been developing valid data-driven analysis of EMRs (electronic medical record), essential to ensure the safety and efficacy of treatment in large."
###
About BioNexus KC:
BioNexus KC believes we can do more to care for people and animals. We inspire thinkers from different disciplines to combine their efforts for a common purpose — healthcare innovation. From bioinformatics to cancer research and beyond, our goal is to stimulate collaboration and advance emerging technologies from concept to reality.
The KC region is a global leader at the nexus of human and animal health benefiting all our citizens and the economy. Our mission is to highlight life sciences resources and their value to the community through collaboration and commercialization. BioNexus KC creates opportunities at the nexus of:
Human and Animal Health
Academia and Industry
Kansas and Missouri
About Hall Family Foundation:
The Hall Family Foundation is a private philanthropic organization dedicated to enhancing the quality of human life. Programs that enrich the community, help people and promote excellence are considered to be of prime importance. The Foundation views its primary function as that of a catalyst. It seeks to be responsive to programs that are innovative yet strive to create permanent solutions to community needs in the Greater Kansas City area.
Media Inquiries:
Dr. Keith Gary
BioNexus KC – Vice President
kgary@bionexuskc.org
816-753-7700
Jennifer Lindholm
BioNexus KC – Marketing & Communications Manager
jlindholm@bionexuskc.org
816-753-7700