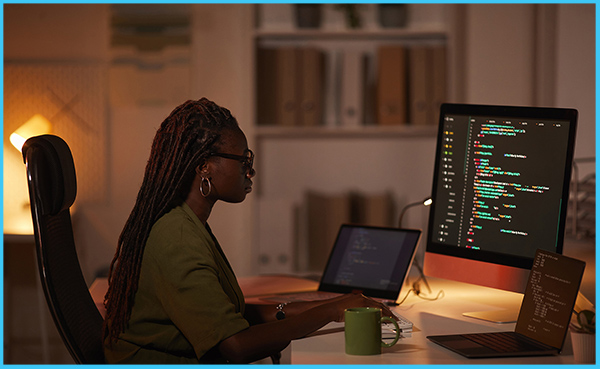 Kansas State University Olathe is using its professional development programming to help Greater Kansas City and beyond fill job vacancies in highly skilled cyber fields.
In November 2020, K-State Olathe launched the Digital Skills Bootcamps as a fast-track for people who want to enter a job in a cyber field, such as cybersecurity, digital marketing or Web development.
Each bootcamp is nine to 10 months, 400-hour, cohort-based, noncredit training program that provides an accelerated path into a particular cyber career field. Participants receive in-depth training about their new career field as well as career development support and mentoring, as well as services such as resume writing, LinkedIn profile building, interview coaching and job placement assistance.
Workshops are taught by industry leaders in their field. The curriculum helps participants develop robust, job-ready skillsets through immersive lectures, individual and group exercises, virtual cyber labs and real-world simulations.
After completing a bootcamp, program graduates have the knowledge, skills and industry-recognized credentials necessary to enter – and thrive — in their new field.
"Highly talented cyber professionals help drive most aspects of the industry sectors in Greater Kansas City," said Angela Buzard, manager of training and development at K-State Olathe. "We see these bootcamps as an alternative learning pathway to providing accessible, current and future-focused education for a tech-driven business world. They also help working professionals start a successful new career and close the growing digital skills gap in Kansas and Missouri."
With the Internet a backbone into nearly every industry, job demand is high for cyber-based professions. In the cybersecurity field alone, there are more than 10,000 relevant positions currently open in Kansas and Missouri.
The Digital Skills Bootcamps were developed by K-State Olathe and powered by HackerU, an institute that works with academic institutions, government organizations and global companies to offer advanced workforce and professional development programs in digital skills.
The cybersecurity bootcamp was the first in the series and launched Nov. 9, 2020. The first digital marketing cohort began Feb. 22. A full-stack Web developer bootcamp will begin in July.
New cohorts for each bootcamp are onboarded every 2 months.After only 6 months in operations, the bootcamps have been met with great success in having a total of 260 participants. Learn more about the Digital Skills Bootcamps here.