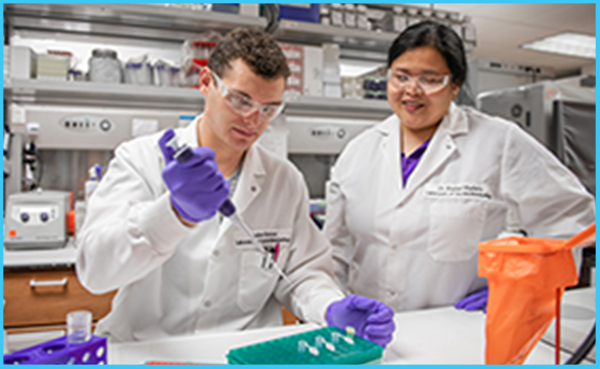 The research started a long time ago. 
Long before you went into your neighborhood pharmacy to get a vaccine — whether an annual flu shot, COVID-19 booster or a shot to protect against another illness or disease. Long before a livestock producer vaccinated an entire herd or flock against an emerging disease. 
That simple shot for a human or an animal is not so simple. It involved years of research and step-by-step development from an idea to the laboratory to tests and clinical trials before a thorough regulatory approval process that allowed the production and distribution of the vaccine. 
"As we have seen from the COVID-19 pandemic, when available, vaccines can play an important role in protecting people from infections and for controlling the spread of viruses," said Stephen Higgs, director of the Kansas State University Biosecurity Research Institute, or BRI. 
Vaccines truly are critical, and K-State is becoming a leader for their development. From the existing biosafety level-3 laboratories at the BRI to the new Biologics Development Module that will expand vaccine research capabilities, the university is enhancing its capacity for this important line of work. 
K-State scientists are studying and developing multiple human and animal vaccines and have achieved success with international collaborations, patented intellectual property and partnerships with industry. Their work will expand with nearby partners, too, including the National Bio and Agro-Defense Facility, or NBAF, as well as Scorpion Biological Services Inc. and its planned biodefense-focused biomanufacturing facility in the Manhattan area. 
Understanding BAPC and CAPC 
A K-State-developed nanotechnology is improving vaccine effectiveness through a commercial partnership with Olathe-based Phoreus Biotechnology Inc. 
John Tomich, professor of biochemistry and molecular biophysics in the College of Arts and Sciences, led an interdisciplinary research team that created the nanotechnology. They patented and licensed it to Phoreus through K-State Innovation Partners. 
The research involves two technology platforms: Branched Amphiphilic Peptide Capsules, or BAPC, and Corralling Amphipathic Peptide Colloids, or CAPC. Both BAPC and CAPC are novel, nanoscale, peptide-based platforms that can increase the efficacy of vaccines and different therapies. 
BAPC can be stable for extended periods at room temperature, which makes them a better delivery platform for mRNA and plasmid DNA vaccines. CAPC can deliver small drugs. 
"BAPC are easy to prepare, stabilize the nucleic acids and are biodegradable. They can even be prepared dry for long-term storage," Tomich said. "CAPC could revolutionize the small molecule drug industry since many human drugs in the development pipeline fail due to insolubility. The CAPC technology could rescue many of these drug candidates that are currently being abandoned." 
Tomich and the Phoreus team continue to collaborate with other universities and industry on using BAPC technology for vaccine development, including work related to an mRNA COVID-19 vaccine and several animal vaccines for swine and poultry. 
"There is a push from many directions to build on the success of the existing mRNA COVID vaccines to expand into additional infectious diseases for both human and animal application," said Michael Coe, chief scientific officer at Phoreus. "However, the next generation of mRNA vaccines are self-amplifying mRNA vaccines that mimic modified live virus vaccines, allowing for single-dose administration. Phoreus expects to be a leader in this new development with its BAPC technology." 
Improving COVID-19 vaccines 
K-State scientists continue work on COVID-19 vaccines through an ongoing research partnership with Tonix Pharmaceuticals. K-State Innovation Partners has coordinated an option-to-license agreement and research collaboration between the two organizations. 
The K-State researchers in the College of Veterinary Medicine are working to make mRNA vaccines more stable during transport and storage. This includes mRNA vaccines used against COVID-19. 
"Our collaborative team is working to fast-track the stabilized formulation into preclinical models," said Robert DeLong, associate professor at the Nanotechnology Innovation Center of Kansas State. 
DeLong is leading the vaccine research, along with colleagues Waithaka Mwangi, professor of diagnostic medicine and pathobiology, and Jürgen A. Richt, director of the Center of Excellence for Emerging and Zoonotic Animal Diseases and the Center on Emerging and Zoonotic Infectious Diseases. 
The collaborative team is developing a zinc particle, or ZNP, mRNA vaccine that can replace the lipid nanoparticle, or LNP, technology in current COVID-19 vaccines. 
"The ZNP technology invented and developed by scientists at K-State has the potential to make mRNA vaccines that are free from LNPs, which could improve the stability of mRNA vaccines at room temperature and facilitate their deployment in places without ultra-cold chain supply systems," said Seth Lederman, chief executive officer of Tonix. 
Read more about K-State disease and vaccine research in Seek magazine.  
By Jennifer Tidball , Kansas State University