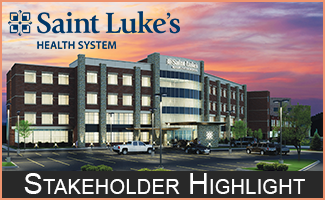 Saint Luke's Health System is dedicated and committed to providing care and improving access for our patients when and where it is needed and convenient to them.
In the last two years, Saint Luke's has significantly expanded its presence in Kansas City. We opened two Saint Luke's Multispecialty Clinics at Mission Farms and Blue Springs and 13 Convenient Care clinics housed inside Hy-Vee and Price Choppers around the metro.
In addition, Saint Luke's recently acquired six Mosaic Life Care clinics located in Platte and Clay counties. These new clinics will open in early May as Saint Luke's Multispecialty Clinics and Primary Care offices.
This year, Saint Luke's is bringing a new model of care to Kansas City with the opening of the Saint Luke's Community Hospitals. These full-service hospitals are streamlined, advanced, fully licensed and accredited acute care hospitals that provide emergency, inpatient, and diagnostic services in convenient neighborhood locations. They are open 24/7, 365 days a year. Each Community Hospital is staffed with board-certified/eligible emergency physicians and experienced registered nurses and staff. Saint Luke's strives for a "door to doctor" time of less than 10 minutes, not only providing convenient care close to home but also improving the patient experience. By year end there will be a total of seven Saint Luke's Community Hospitals in the Kansas City area when all are completed.
Finally, Saint Luke's broke ground on the new Saint Luke's Rehabilitation Institute, in Southern Johnson County, designed to be a destination hospital offering the most advanced therapies and equipment for rehabilitation patients in the region.
Scheduled to open in 2019, Saint Luke's Rehabilitation Institute will be home to some of the most innovative and state-of-the art robotic equipment in the Midwest. This robotic technology will enable patients to use advanced rehabilitation technology throughout their recovery, and benefit from the delivery of more intense rehabilitation therapy.