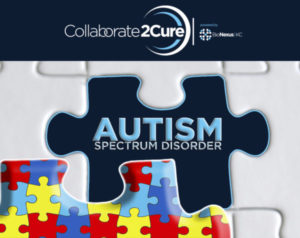 For immediate release: May 15, 2020
KANSAS CITY, MO – BioNexus KC is pleased to announce our 2020 Collaborate2Cure series on Autism Spectrum Disorder (ASD). Events will occur monthly beginning June 10, 2020 via the ZOOM meeting platform.
The Kansas City region has a robust autism network comprised of basic researchers, clinicians, patient advocacy groups, and start-up companies. The Collaborate2Cure program provides a platform for collaboration, allowing scientists in the Kansas City region to share their research and ultimately compete for funding dollars.
The short-term goal is to combine these disciplines to learn about a variety of research and clinical issues related to ASD. With each having a unique window into the topic, chances are very good that new collaborations may spark innovative treatments, diagnostics, advocacy strategies, and broadened awareness. The long-term goal of the series will be to formalize a consortium of researchers, clinicians, and patient advocates devoted to ASD progress and research.
Collectively, the consortium will make the region more competitive for research funding, support more targeted clinical interventions, and raise regional awareness of the impact of ASD on individuals and their families. At the conclusion of the series, a request for proposals will be released to support collaborative, innovative research projects generated from the discussions at a funding level of $50,000 for up to one year.
Scientific collaboration can cultivate more creativity, increase funding and result in higher impact publications. For all these reasons, BioNexus KC created Collaborate2Cure with the goal of stimulating regional scientific collaboration and developing innovative ways to solve scientific challenges. Collaborate2Cure was launched in late 2016 and has focused on cancer immunotherapy, mitochondrial dysfunction and value-based healthcare.
Dr. Zohreh Talebizadeh, Division of Developmental and Behavioral Sciences, Director of Autism & Neurodevelopmental Disorders Genetics Laboratory at Children's Mercy Kansas City and Associate Professor of Pediatrics and the University of Missouri – Kansas City will chair the series.
The copyrighted title of this series launched in 2015 – Collaborate2Cure – in no manner suggests the need to "cure" the broad range of unique individuals affected by autism spectrum disorders. Alternatively, the emphasis for this series focuses on collaboration for impacting autism research, management, and advocacy.
Monthly events will be held at the Kauffman Foundation upon reopening and will be simultaneously web-streamed via the ZOOM meeting platform to expand participation. For more information about upcoming Collaborate2Cure events, please visit www.Collaborate2Cure.org.
About BioNexus KC
BioNexus KC believes we can do more to care for people and animals. We inspire thinkers from different disciplines to combine their efforts for a common purpose — healthcare innovation. From bioinformatics to cancer research and beyond, our goal is to stimulate collaboration and advance emerging technologies from concept to reality.
The KC region is a global leader at the nexus of human and animal health benefiting all our citizens and the economy. Our mission is to highlight life sciences resources and their value to the community through collaboration and commercialization. BioNexus KC creates opportunities at the nexus of:
Human and Animal Health
Academia and Industry
Kansas and Missouri
Media Inquiries
Jennifer Lindholm
Marketing & Communications Manager
jlindholm@bionexuskc.org
816-753-7700
Dr. Keith Gary
Vice President
kgary@bionexuskc.org
816-753-7700