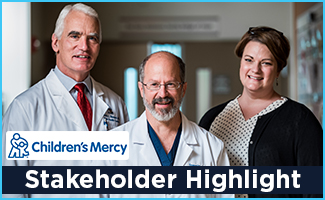 Children's Mercy is home to The Elizabeth J. Ferrell Fetal Health Center, one of the first fetal centers in the U.S. to be located inside a children's hospital. That means, healthy mothers who have high-risk pregnancies can deliver in the Fetal Health Center, so their baby is always close by.
The Fetal Health Center also offers families consultative services and access to the region's only top-level (Level IV) Neonatal Intensive Care Unit that specializes in pediatric subspecialty care.
Recently, the 1000th baby was delivered in the center, which opened in 2011.
"This is a big accomplishment," said Timothy Bennett, MD, Medical Director of the Fetal Health Center. "Every day we are giving mothers the opportunity to deliver in a center where their baby can immediately receive the care that they need – while keeping families together during a stressful time."
In 2017, Children's Mercy expanded the program and started to perform spina bifida repair surgery in the womb, a procedure that closes the opening in the baby's spine before birth. This leading-edge fetal surgery is offered at just a handful of hospitals across the nation.
"We're very fortunate to live in the 21st century and offer cutting-edge options to our patients," said Emanuel (Mike) Vlastos, MD, Medical Director of Fetal Surgery. "Until early 1997, the only option was for a mother to give birth to her child and then have the spina bifida repaired at that time. Today, we can do that repair in utero."
According to research, outcomes from fetal spina bifida surgery are much better than traditional surgical repair after birth.
Dr. Vlastos has been part of more than 85 prenatal repairs, 13 of which he performed at Children's Mercy in the past year.