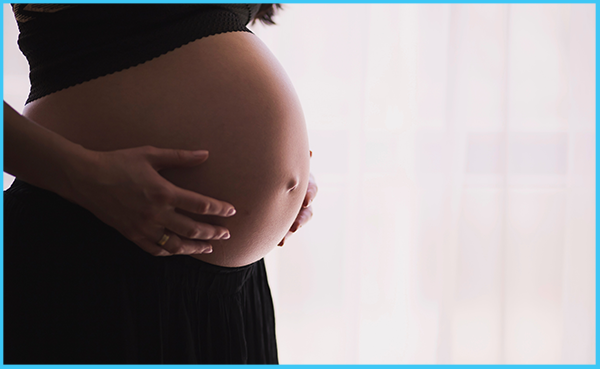 In November of 2020, University Health (UH) opened its newest location in the UMKC Health Sciences District. Providers in the beautifully designed University Health 2 building, at 2211 Charlotte St., focus on women's health and primary care.   
The new building means the environment now matches the high level of care patients have come to expect. University Health Truman Medical Center is a regional-referral center for women with high-risk pregnancies.  
At the center of that care are perinatologists or maternal fetal medicine (MFM) specialists like Devika Maulik, MD. Maulik cares for pregnant women when, as she would say, "something is out of the ordinary with the mom or the baby." (That team includes her father, Dev Maulik, MD, who serves as the Chairman of University Health's Department of Obstetrics and Gynecology). Within the past few months, expecting mother Amada (she prefers to only use her first name) has been a patient of the MFM team. The 33-year-old has Type II diabetes. At 30-weeks into her pregnancy, Amada is doing well thanks to weekly appointments with the MFM providers who are closely monitoring her glucose levels. "I am so glad I found these doctors," Amada said. "I've been receiving the best care. They are so great at taking care of me." 
Maulik points to a few recent developments in the field that allow her and fellow MFM specialists to better care for women with high-risk pregnancies. The first involves physicians prescribing a daily dose of aspirin for women who had preeclampsia, or high blood pressure, in a previous pregnancy. Preeclampsia is a leading cause of maternal and infant mortality. Maulik says scientists still don't know exactly why aspirin reduces the chances of developing the potentially deadly condition, but know it is saving lives.  
The second improvement to care comes from a better understanding of the use of prophylaxis progesterone to prevent preterm labor, which according to March of Dimes, accounts for more than 15 percent of all infant deaths.  
And finally, Maulik points to research that indicates lower "adverse delivery outcomes" when women with low-risk pregnancies have induced deliveries at 39 weeks. 
Maulik consults on high-risk pregnancies at medical centers throughout the region. Should a patient deliver an infant that needs specialized care, University Health's Level III neonatal intensive care unit (NICU) is attached by the "Bridge of Hope" to Children's Mercy's Level IV NICU (the highest level of care).  
No matter if you are experiencing a high- or low-risk pregnancy, Maulik offered three tips for expecting moms: 
Remember that your OB team works for you. If you are not on board with a plan that the providers have created for you, speak up. 

 

Listen to your body and do not distrust it, even if a physician tells you that what you are experiencing is not what you think it is. 

 

And learn to prioritize yourself. Keep in mind that making the health and wellness of an expecting mother is a team effort, friends and family need to be supportive. 

 
To learn more about the MFM providers at University Health, click here. 
By: University Health