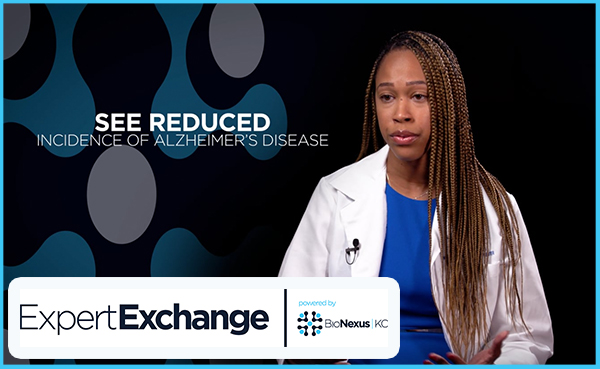 You've heard the saying, 'actions speak louder than words.' To discover what motivates someone or what is important to them, you can simply watch their feet. For Dr. Ashley Shaw, Research Assistant Professor at the University of Kansas Medical Center, her forward motion is research, community involvement, and a committed focus on Alzheimer's disease prevention within the African American community.
Shaw's goal at the University of Kansas Alzheimer's Disease Research Center (KU ADRC) is to prevent and cure the disease and is focused on lifestyle factors that have an impact on brain health. More specifically, Shaw serves the African American community where the disease is two to three times more likely to occur. As part of her current research study, the Brain Healthy Soul Food Diet Intervention, she is developing a culturally tailored dietary intervention in partnership with Dr. Debra Sullivan at KU Medical Center, and community partners. Phase one of the study included focus group discussions, identifying barriers and community perceptions of the disease, root causes, and what preventative changes look like.
Behind this disproportionately higher likelihood of Alzheimer's disease within the African American community lies a quiet, yet profound healthcare inequity of neglect towards dietary education and evolution. "People of color are underrepresented in research and healthcare attention with regards to preventative measures to lower the possibility of dementia, when it has been shown to reduce the risk by simply increasing social engagement, diet and exercise. Often other health conditions are affiliated with the disease, such as cardiovascular disease, diabetes, high blood pressure, high cholesterol, and all of these excessively impact the community," Shaw said.
Shaw seeks to build the future of this program collaboratively with the community. "They really want to be a part of this process, are motivated to reduce disparities and have been receptive to participating in the trials," Shaw said. Her constant involvement is crucial in the long-term sustainability of this initiative. Her goal is to partner in creating a culturally tailored dietary intervention, that will be met with buy-in and retention as a lifestyle change, resulting in improved health outcomes, and a reduction in dementia diagnoses.
There is also a personal driver behind her professional dedication. Her grandfather was diagnosed with Alzheimer's disease in his mid-60s and her family perceived this as a normal part of aging, which is a common misconception with the disease. Shaw was motivated to research the disease and earned her PhD at the University of Missouri. "I wanted to be a part of the process by helping to educate the community as well as finding lifestyle interventions to improve outcomes for our family members as they age," Shaw said. She also presents a regular education curriculum as part of her community involvement, called "Aging with Grace," that provides culturally relevant tools and strategies to help African Americans reduce their risk of developing dementia or Alzheimer's disease.
Shaw knows that the only way to earn the trust of the African American community is to be involved consistently and to inspire involvement and buy-in. This program is a commitment to the community intended to create an environment that provides resources and education for future generations. Shaw has witnessed the impact of Alzheimer's disease and dementia in her family and the community and, if you watch her feet, you will see her dedication to improving outcomes with each and every step.