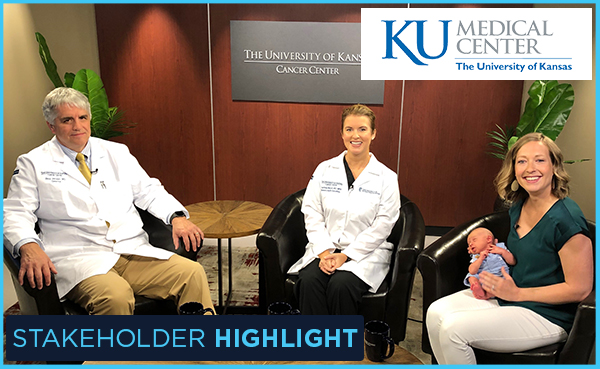 If it's 10 a.m. Wednesday, a smiling Dr. Roy Jensen is most likely greeting his cyberguests for another edition of Bench to Bedside.
Jensen, director of The University of Kansas Cancer Center, hosts the Facebook Live talk show that covers a broad range of topics related to cancer. The show encompasses research (bench) and patient care (bedside).
"Bench to Bedside is an important component of our efforts to connect to our community by highlighting topics we feel will be of importance to our area and beyond," Jensen said. "We educate the public on exciting developments in cancer research, oncology care and cancer-prevention efforts."
Bench to Bedside is produced with state-of-the-art communications by the broadcasting team at The University of Kansas Health System. It's initially distributed live via Facebook. Before every show, followers of the KU Cancer Center are alerted to an upcoming show and invited to attend. Once they've logged in to watch, they can submit questions during the show's Q&A session.
Jensen's guests have included researchers, physicians and other experts.  Colleagues from the KU Cancer Center, the health system and the University of Kansas Medical Center are regular contributors, but guests can come from anywhere.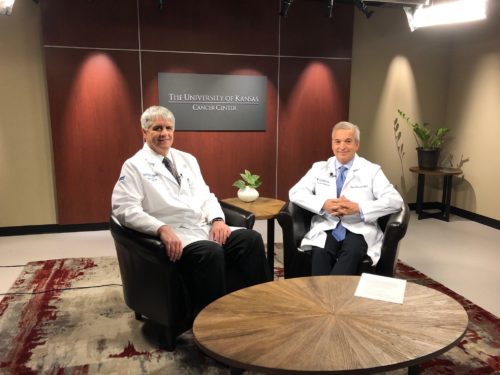 In one show, colon cancer survivor Ashley Flynn brought her newborn son to the studio for a discussion on fertility treatments for survivors. She shared her personal history while medical information came from Dr. Courtney Marsh, reproductive endocrinologist and infertility specialist with the health system and associate professor at KU School of Medicine.
In another, Jensen talked to Karen E. Knudsen, director of the Sidney Kimmel Cancer Center (SKCC) in Philadelphia, Pennsylvania, about the future of cancer research. SKCC, like the KU Cancer Center, belongs to the Association of American Cancer Institutes, which encompasses 98 centers across the U.S.
Other cancer centers have contacted the KU Cancer Center for help in setting up their own shows. They're seeking the expertise that comes from more than 60 episodes and nearly 97,000 viewed minutes.
Past shows remain on the KU Cancer Center page's video library, where viewers can continue to ask questions and continue the cancer-related conversations.