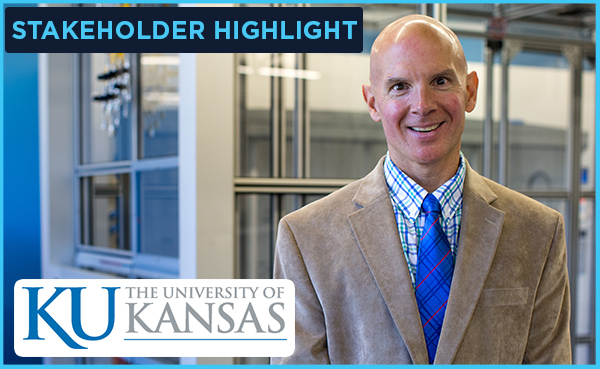 A University of Kansas professor who helped to develop a refrigerant that is safe for the Earth's ozone layer is among the ranks of the latest class of Fellows of the National Academy of Inventors (NAI), one of the highest honors given to academic inventors.
Mark Shiflett, Foundation Distinguished Professor of Chemical & Petroleum Engineering, was one of 148 academic inventors to receive the honor at the end of 2018. He conducts research at KU's Center for Environmentally Beneficial Catalysis and is the fifth KU faculty member to earn recognition as an NAI Fellow.
"Professor Shiflett is an outstanding innovator whose inventions have helped to improve the health of our planet and benefit our society, and he is truly deserving of this latest recognition for his groundbreaking work," said John Colombo, KU's interim vice chancellor for research.
His most notable inventions include three energy-efficient refrigerant mixtures for replacing chlorofluorocarbons (CFCs) in refrigeration applications such as supermarket frozen food display cases, commercial ice machines and refrigerated transportation.
He holds 44 U.S. patents, three of which protect commercial DuPont products. He is the founder of SMF Science, a startup lubricants company. He has published 80 articles in peer-reviewed journals, written two book chapters and edited one book.
With the election of the 2018 class, there are now more than 1,000 NAI Fellows, representing more than 250 research universities, government and nonprofit research institutes.
Cory Berkland, Solon E. Summerfield Distinguished Professor in KU's departments of Pharmaceutical Chemistry and Chemical & Petroleum Engineering, was named an NAI Fellow in 2017.
Raghunath Chaudhari, the Deane E. Ackers Distinguished Professor of Chemical & Petroleum Engineering, received the honor in 2016. The year before, Val Stella, distinguished professor emeritus in the Department of Pharmaceutical Chemistry, and Bala Subramaniam, the Dan F. Servey Distinguished Professor in the Department of Chemical & Petroleum Engineering, became KU's first NAI Fellows.