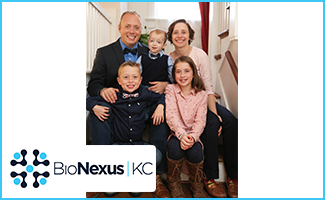 The definition of rare means not occurring very often. Dennis Ridenour, new President and CEO of BioNexus KC, can particularly relate to this definition. His third child, Theo, was born with a rare genetic condition known as Rubenstein-Taybi syndrome. An additional definition of rare expresses the meaning as unusually good or remarkable, which is exactly how Ridenour sees his son.
Ridenour's wife, Janell, is a physician's assistant at UMKC. They have three kids, Ellery (9), Andrew (6), and Theo (3), and are expecting their fourth in June. As one may expect, Dennis and Janell keep busy shuttling the kids to gymnastics practices and meets, soccer matches, and piano lessons.
Theo is his rare kid. At their 20-week ultrasound, he and his wife discovered that their unborn baby had a heart condition which would require surgery immediately after birth. Ten days after he was born, Theo was diagnosed with Rubenstein-Taybi, a genetic syndrome involving the deletion of the CREBBP gene, a gene that plays a critical role in development, growth, and general metabolism.
Ridenour's education is from the University of Nebraska in molecular biology. He focused on the overexpression and knockdown of genes in different cell types. With his background, his first reaction to Theo's diagnosis was to review medical publications to get a non-emotional, scientific perspective to learn more about the syndrome.
Theo came into their lives in March of 2015 and that was when they discovered the isolation that comes along with a child affected by a rare disease. "We did not have a local community to lean on in terms of how to take care of Theo and what was the best for him," Ridenour said. There were some online groups of other families of children with Rubenstein-Taybi, but the Ridenours didn't find local support until they stumbled upon a RareKC event. The RareKC Project was founded in 2015 to activate a change in the lives of those challenged by rare genetic conditions and diseases. There was not a single person in the group that had a family member with Theo's syndrome, but they were all facing the same challenges as Ridenour's family. Even with their medical and science backgrounds, finding a community in Rare KC was a revelation.
In addition to leading BioNexus KC, Ridenour serves as treasurer for the Rare KC Board of Directors. He sees synergies between the two organizations when it comes to rare diseases and BioNexus KC's four strategic initiatives; Health IT and outcomes, cancer research and care, animal health and neuroscience. "I think there is an opportunity for us to play a role in helping build Kansas City as a center of excellence for rare disease," Ridenour said, "So many of our stakeholders have interest in rare disease, whether it's in the genetics research underlying the various syndromes or the care of these patients that have these syndromes." The Kansas City area is home to some unique assets, like the Genomic Medicine Center at Children's Mercy and the 1Data initiative that was catalyzed by BioNexus KC, that can further this synergy.
Rubenstein-Taybi has significantly impacted Theo's overall health, with both cognitive and physical delays. He is mostly non-verbal, but says a few words like 'mama' and 'dada', and currently uses sign language as his primary form of communication. Theo goes to the Children's Center for the Visually Impaired every morning, working on speech, physical and occupational therapy. Then he goes to a traditional daycare where he continues working on speaking, walking and physical activities. Theo's impact has been exceptional for Ridenour's family. "He's one of the happiest kids. He's always smiling, and he makes other people smile," Ridenour said, "It has helped our other kids be more empathetic and aware of differences and making sure to include others."
Life escapes definition, but when Dennis Ridenour's family was faced with a rare situation, they saw it as a rare opportunity. In the coming years, BioNexus KC will undoubtedly evolve under Ridenour's leadership. At the nexus of animal and human health, there is a symbiotic overlap that will give a louder voice to the Kansas City community that supports so many families dealing with rare diseases.