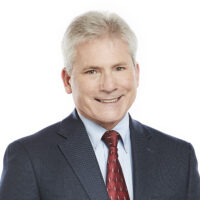 For Immediate Release: August 18, 2021
KANSAS CITY, MO – Dr. Keith Gary, Vice President at BioNexus KC, will resign from his position on September 30, 2021, after more than 18 years of service to the life sciences and healthcare industry in Kansas City. Dr. Gary will be relocating to Portland, Oregon with his wife, Susan, to be closer to family. His new position is well-aligned with his interests and focused on advocacy, patient care, and research. BioNexus KC will be conducting a national search for a new Vice President and expects to name Dr. Gary's successor by the end of 2021.
During nearly two decades with BioNexus KC, Dr. Gary has played a crucial role advancing life sciences. "Keith has profoundly impacted the regional ecosystem," Dennis Ridenour, President and CEO of BioNexus KC said. "Between workforce development, research grants, and translational research, our community has benefited from his extraordinary talents. We thank him for his many contributions to the life sciences and wish him well in his future endeavors."
"My time at BioNexus KC has been some of the most rewarding of my professional career. Leadership provided me latitude to foster scientific collaboration, accelerate technologies to market, and address STEM education and workforce development opportunities," Dr. Gary said. "The organizations and people I have worked with represent a committed group focused on making the Kansas City community healthy, engaged, and a hub of economic growth for all of our citizens and the economy. There remains significant work ahead and some unique opportunities coming soon including the National Bio and Agro-Defense Facility, the Veterinary Clinical Trials Center, KU's eventual designation as a National Cancer Institute-Comprehensive Cancer Center, and the continued success of the Kansas City Quality and Value Innovation Consortium – all point to a bright future for the region."
###
About BioNexus KC:
BioNexus KC believes we can do more to care for people and animals. We inspire thinkers from different disciplines to combine their efforts for a common purpose — healthcare innovation. From bioinformatics to cancer research and beyond, our goal is to stimulate collaboration and advance emerging technologies from concept to reality. The KC region is a global leader at the nexus of human and animal health benefiting all our citizens and the economy.
BioNexus KC creates opportunities at the nexus of:
Human and Animal Health
Academia and Industry
Kansas and Missouri
Media Inquiries:
Jennifer Lindholm
BioNexus KC – Marketing & Communications Manager
jlindholm@bionexuskc.org
816-753-7700