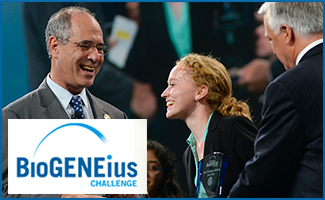 Erin Smith was named the grand prize winner of the 2017 International BioGENEius Challenge at the BIO International Convention in San Diego, CA for her creation of FacePrint.  Smith, an 11th grade student at the Shawnee Mission School District's Biotechnology Signature Program, developed a diagnostic technology to detect Parkinson's disease by analyzing facial recognition patterns with Affectiva's software.   Current diagnosis of Parkinson's disease is subjective and thus an accurate diagnosis is often delayed. The FacePrint technology designed by Smith may provide a diagnosis years earlier than current diagnostic methods, and is easy to use for anyone with a webcam.
Smith recalls her love of science from early childhood when her mother, JoAnne Huber, would check out science books from the library and they would spend hours experimenting in the kitchen.  As her scientific curiosity continued to mature, she connected with several community resources including BioKansas, Science Pioneers, and the Kansas City Area Life Sciences Institute (KCALSI).  Mentors were an important component of her training, including her teacher Brenda Bott, coordinator of Shawnee Mission West High School's biotechnology department; Doug McNair, president at Cerner Math Inc; Sally Williams, consultant at the UMKC Small Business and Technology Development Center (SBTDC) and Jerry Wyckoff, professor of evolutionary biology at UMKC. "The relationships I have made have been a critical element of my research. Through different conversations with mentors, I have had the opportunity to gain new perspectives and develop my idea to become something far greater than I could have previously imagined possible," says Smith. "The Kansas City ecosystem has provided a fundamental foundation from both a research and entrepreneurial standpoint. I am so grateful for the people I have had the opportunity to work with and for their continued support and mentorship.'
Smith embarked on a research project in 2015 focusing on the diagnosis of Parkinson 's disease.  While watching a video produced by the Michael J. Fox Foundation, she noticed that patients with Parkinson's disease seemed distant from each other when talking or smiling.  She became curious as to whether this was an identifying marker of the disease.  Her curiosity led to progressive exploration, including:
Reading research papers that confirmed that Parkinson's affects the same area of the brain that controls spontaneous facial expressions.
Working with 12 patients at a local Parkinson's community whose caregivers confirmed that they noticed similar facial changes before the disease was diagnosed.
Mentoring by Dr. Doug McNair (Cerner) regarding software tools.
Mentoring by Dr. Jerry Wyckoff (UMKC) to develop computational and analytical algorithms.
Developing an online research study using Affectiva's facial recognition software.
Mentoring by Sally Williams (UMKC SBTDC) in the management of her startup.
Through the Michael J. Fox Foundation, she expanded her research pool to 265 people nationwide, including both Parkinson's patients and those without the disease.
She was the winner of the 2016 Kansas BioGENEius Challenge (co-sponsored by KCALSI and administered by BioKansas) and received $10,000 in seed funds from the "Built By Girls Challenge."   Additionally, she was the first winner of the BioGENEius GenePool Competition – the "nature and nurture" SHARK TANK® at the 2016 BIO international Convention in San Francisco, CA.
In 2017 several awards (Kansas BioGENEius Challenge award, the First Award, and the Intel ISEF Best of Category Award for behavioral and social sciences at the Intel International Science and Engineering Fair in Los Angeles.) led to her participation in this year's BioGENEius Challenge at the San Diego, CA BIO International Convention.  Her presentation entitled, "A Novel, Telemedicine Diagnostic Tool for Parkinson's Disease: The Use of Digital Action Unit Biomarkers Generated by Spontaneous and Posed Facial Expressions"    received international attention.  Her post-award interview can be seen online at http://bit.ly/2tNaIB2
Following her international acclaim, Smith presented at the 2017 Maker Faire at Union Station and is currently working with Jeremy Wolfe of the Harvard Visual Attention Lab at the Massachusetts Institute of Technology.  In August, she will participate in the China Adolescent Science and Technology Innovation Contest, the largest national science competition in the world.  She plans to conduct a larger study this summer for patients with other neurological diseases, with the goal of helping those who remain undiagnosed.
"BioKansas started promoting BioGENEius across the region several years ago and KCALSI has been a proud and active supporter of the program since its inception," said Wayne Carter, KCALSI President and CEO.  "We have amazing talent in our students and we want to put all of the tools and opportunities at their disposal to be successful.  Erin is a perfect example of the type of student and entrepreneur we want to develop in our region."
While her initial inquiry was scientific-based, her project has led to a strong motivation to improve the quality of people's lives.  Smith describes her technology as a "modern spin on diagnostics."   She is driven to "create technologies and devices that are used in different clinics throughout the world and then also in primary care physician clinics."   She believes that social media outlets, such as Facebook and Snapchat, could be implemented as powerful healthcare technology tools that could transform the face of healthcare.