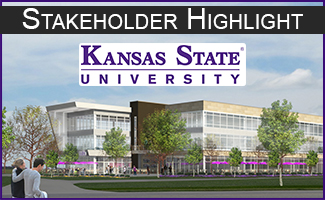 China's largest animal vaccine company will open a research lab and offices in the Kansas State University Office Park.
Officials for Jinyu Bio-technology Co. Ltd. said this is the first time the company has established facilities in the U.S. The company will research and design vaccines for swine and cattle, as well as develop educational materials for Chinese companies and veterinarians. The company will begin operations in 2018.
"When university-focused companies like Jinyu Bio-technology locate adjacent to K-State's campus, partnerships develop with faculty expertise and research to promote real-world application and discovery," said Greg Willems, Kansas State University Foundation president and chief executive officer.
Jinyu plans to employ four to six scientists. The company has researched the Manhattan location for nearly two years and was drawn to its connection with the Kansas City Animal Health Corridor.
"The Kansas City Animal Health Corridor's international reputation is a strategic advantage for more and more animal health companies," said Kimberly Young, corridor president. "We are thrilled to welcome Jinyu to our corridor community and look forward to the company's leadership and effort."
Chongyu Zhang, Jinyu chairman, said the company's decision was based on a belief that Manhattan and Kansas State University are in the forefront of animal health research. He noted the world-renowned scientists in the Kansas State University College of Veterinary Medicine, Biosecurity Research Institute and the future National Bio and Agro-defense Facility.
The partnership will help improve animal health because university researchers and students can contribute and help industry address urgent needs, said Peter Dorhout, Kansas State University's vice president for research.
"K-State's 2025 strategic plan encourages us not only to create a culture of excellence that results in increased research activities, but also to fully engage with people and build necessary infrastructure," Dorhout said. "We are working to ensure that K-State innovations are applied to improve global food security, bio-agro defense, animal and human health, and more."