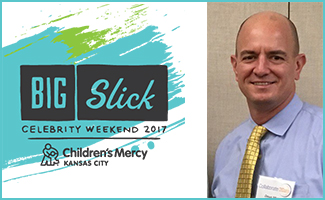 Big Slick KC is an annual fundraiser for the Children's Mercy Cancer Center.
Some of the biggest celebrities from the Kansas City area –  Rob Riggle, Jason Sudeikis, Paul Rudd, Eric Stonestreet and David Koechner –  come home to KC for this action-packed weekend event. Over the past four years, this event has raised over $4.5 million for childhood cancer research at Children's Mercy.
The weekend hosted over 25 celebrities and included:
Dr. Doug Myers was nominated by the Big Slick Families – families of celebrities – to sit in the Buck O'Neil Legacy Seat at the celebrity softball game at Kauffman Stadium. Buck O'Neil was a first baseman and manager in the Negro American League for the Kansas City Monarchs. He played a major role in establishing the Negro Leagues Baseball Museum in Kansas City and had a great impact on the lives of everyday people in this region. Buck spent many nights supporting the Royals from the same seat behind home plate at Kauffman Stadium, as a scout and fan.  The Buck O'Neil Legacy Seat represents and honors members of the community who symbolize Buck's impeccable and impactful spirit.
As an Associate Professor of Pediatrics at Children's Mercy, Dr. Myers focuses his research on immunotherapy treatment methods- using one's own immune system to fight diseases – aimed at improving survival rates of those battling devastating forms of cancer. His impactful research has paved a path for him to foster numerous collaborative efforts between hospitals, doctors, and scientists to accelerate work on cancer treatments. Through his work, Dr. Myers has helped to save and improve the lives of numerous pediatric cancer patients not only in the Kansas City community, but around the world. "I was very humbled to receive the Buck O'Neil Legacy Seat award as I reviewed the amazing accomplishments of previous awardees.  I have a lot to live up to and hope that work performed by my colleagues and I, now and in the future will enrich the lives of children and adults in this community and around the world," said Myers.
Since treating patients with this new therapy, Dr. Myers and the Children's Mercy staff have seen remarkable results in remission successes and also in eliminating some of the worst side effects many patients suffer from during their cancer treatments. The proceeds from the Big Slick annual fundraiser for the Cancer Center at Children's Mercy are used to provide patients and the region with innovative research, such as the work of Dr. Doug Myers.
Dr. Myers also led the first Collaborate2Cure program at the Kansas City Area Life Sciences Institute which spawned new collaborations across the region.  Elias Animal Health has developed a vaccine for cancer in dogs and this concept is now being developed at Children's Mercy as a treatment kids with brain cancer.  Another new collaboration between the University of Kansas Medical Center and the University of Missouri College of Veterinary Medicine has been established for cancer immunotherapy.