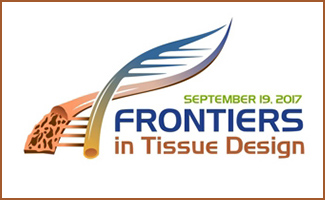 KCALSI's 2017 Annual Dinner keynote speaker, Nina Tandon, is growing transplantable bones using a patient's own stem cells.
Held on September 19 at the Arvest Bank Theatre at the Midland, KCALSI's annual dinner will feature the theme Frontiers in Tissue Design. The theme will explore the process of growing tissue and transplants, and the future of medical science.
The annual dinner will also feature the fourth annual Science to Art Silent Auction highlighting the engaging art found in biomedical research.
Attendees will enjoy a captivating talk from keynote speaker, Nina Tandon, entitled Body 3.0. Dr. Tandon will take guests through a journey of the history of our bodies:
Body 1.0 – How our bodies have lived through most of history
Body 2.0 – How we evolved into "cyborgs" with implants, such as pacemakers and artificial joints
Body 3.0 – How we are able to grow our own body parts
Nina Tandon is the CEO and co-founder of EpiBone, the world's first company growing human bones for skeletal reconstruction. Her work has been featured across the nation, and she was recently named one of the 100 most creative people in business by Fast Company.
To learn more about Dr. Tandon and her work, click here.
Science to Art:
Artwork from the fourth annual Science to Art Exhibit will be featured in a silent auction during this year's annual dinner. The images featured in the exhibit come from years of research and discovery. Through these images, guests will witness firsthand the beauty behind the repairing of a DNA strand, the atomization of water, an artificial intelligence derived image, fruit fly muscle, cartilage in an alligator's jaw, and a host of other scientific discoveries. Each image describes a quest for scientific understanding and future cures among our regional scientists.
Through these images, scientists are able to describe their passion for arts and the importance of the visual imagery in their research. All proceeds from the silent auction will benefit STEAM (Science, Technology, Engineering, Art, and Math) education through the following organizations: BioGENEius, PREP-KC, Science City and the Greater Kansas City Science & Engineering Fair, and the Kemper Museum of Contemporary Art.