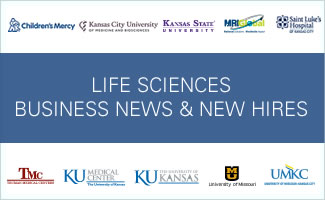 Aratana Builds Pet Drug Pipeline by Buying Rights from Japanese Company
Aratana Therapeutics, Inc. bought exclusive rights to develop a pain and inflammation treatment from Japanese drug developer, AskAt, Inc. More information »
Cerner Announces New Collaboration with Salesforce to Extend Care Beyond the Exam Room 
Cerner announced a new collaboration with Salesforce, the global leader in customer relationship management (CRM). Cerner is extending its population health, clinical and administration portfolio with an integrated solution that combines Salesforce Health Cloud and Marketing Cloud with Cerner's HealtheIntent, its big data platform. More information »
Brent Shafer
Cerner Corporation names Brent Shafer CEO, Chairman. More information »
Metactive Medical Raises $1.2 Million of Additional Capital and Awarded $1.5 Million Grant from the National Institutes of Health
Metactive Medical Inc., a medical device company that is developing products for the treatment of neurovascular, peripheral vascular and structural heart diseases, recently announced that it has closed an additional $1.2 million in Series A financing from a group of investors, including Mid-America Angels and Serra Ventures, bringing the total funding raised to date more than $10 million. More information »
CicloMed Announces First Patient Dosed with Ciclopirox Prodrug in Phase I Trial in Patients with Advanced Solid Tumors
CicloMed LLC, a biotechnology company developing novel treatments for bladder cancer, today announced that the first patient has been dosed in a Phase I clinical trial. More information »
Michael Chapman
Michael Chapman has been named chair of the Department of Biochemistry at the University of Missouri, effective July 16, 2018. More information »
Devin Fergus
Devin Fergus is the Arvarh E. Strickland Distinguished Professor of History and Black Studies. More information »
Carolyn Henry
Carolyn Henry Named Dean of the College of Veterinary Medicine. More information »
Scott Weir Named Research Recipient of 2018 Global Health Repurposing Awards
Cures Within Reach, a leading global nonprofit focused on repurposing research as a fast track to impacting patients' lives, announced that Scott Weir, PharmD, PhD, of The University of Kansas Cancer Center, is the recipient of the 2018 Janet Davison Rowley Patient Impact Research Award. More information »
KU Cancer Center Named "High-Performing Site" by National Cancer Institute
The University of Kansas Cancer Center was recently recognized as a "high-performing site" by the National Cancer Institute (NCI). Under NCI's High-Performing Site Initiative, the program recognizes institutions that enroll a large number of patients onto National Clinical Trials Network trials while demonstrating scientific leadership in the design and conduct of clinical trials. KU Cancer Center's Westwood and Overland Park, Kan., locations were specifically recognized for high accrual. More information »
Inauguration of Chancellor Douglas A. Girod
The University of Kansas will celebrate the inauguration of Douglas A. Girod as the university's 18th chancellor. More information »
Francesco De Luca, MD

Francesco De Luca, MD, joined Children's Mercy Kansas City as Division Director of Endocrinology and Diabetes. More information »
Netsmart CEO: Acquisition will Grow Home Health Business
Netsmart's most recent acquisition will boost its growing home health segment. The Overland Park-based health IT company netted New Jersey-based HomeCare Accounting Solutions, which adds billing and back-office capabilities to Netsmart's home health, hospice and palliative care record systems. More information »
Boehringer Ingelheim and Vanderbilt University Expand Partnership to Develop Novel Treatment Approaches for Cancer
Boehringer Ingelheim and Vanderbilt University today announced the expansion of their successful existing collaboration to develop novel anti-cancer compounds. More information »
Douglas C. Bittel, PhD
Douglas C. Bittel, PhD, has joined Kansas City University of Medicine and Biosciences as a full-time faculty member leading the development of a future bioinformatics track in the College of Biosciences.
Kristan Corwin
Following an internal search, the College of Arts and Sciences has named Kristan Corwin as the new Associate Dean for Research. More information »
Bryan Samuel
Following a national search, Bryan Samuel has been selected as Kansas State University's chief diversity and inclusion officer. More information »
Ellen Lowery
Ellen Lowery, DVM, PhD, MBA, is joining Kansas State University's Olathe campus as a professor of practice in animal health. More information »
Gerald "Jerry" Wyckoff
Gerald "Jerry" Wyckoff, professor of molecular biology and biochemistry at the University of Missouri-Kansas City, joined K-State Olathe in a part-time role as director of 1Data. More information »
Lori Smith
Lori Smith has joined the team at MRIGlobal as the Principal Bioanalytical Chemist.