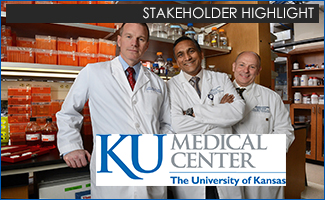 A bladder cancer drug discovered and developed at The University of Kansas Cancer Center is set to become its first cancer drug to go from bench to bedside. The new drug, called Ciclopirox Prodrug, will be entering first-in-human trials at several sites across the nation after the first of the year.
"Ciclopirox Prodrug demonstrates KU Cancer Center's vision of bringing together basic, translational and clinical scientists to not only discover and develop new cancer treatments, but also to advance promising new treatments to patients," said Roy A. Jensen, MD, director of the KU Cancer Center, one of only 69 cancer centers nationally designated by the National Cancer Institute (NCI). "If we are successful, our patients are the ones who will benefit."
Bladder cancer is the fifth most common cancer in the United States, with approximately 77,000 new cases and 16,000 deaths annually. It has the highest recurrence rate among all cancers – up to 50 percent of cases may recur within 12 months. Additionally, 25 percent may advance to muscle invasive disease, so patients face a lifetime of monitoring and medical care.
"This is potentially a game-changer in treating patients with non-invasive bladder cancer," said renowned bladder cancer expert John Taylor III, MD, co-leader of the Drug Discovery, Development and Experimental Therapeutics Research Program at KU Cancer Center and professor of urology at the University of Kansas School of Medicine. "A new and effective drug, which doesn't require catheterization, is welcomed in a field where care has not advanced much in several decades."
Discovered by a multidisciplinary team of researchers at KU Cancer Center and its nationally recognized product development arm, the Institute for Advancing Medical Innovation (IAMI), Ciclopirox Prodrug was licensed to CicloMed LLC, a subsidiary of Kansas City-based BioNOVUS Innovations LLC, in November 2015.
"We are excited to move Ciclopirox Prodrug into phase I trials in partnership with the KU Cancer Center and its Institute for Advancing Medical Innovation (IAMI). This drug development project demonstrates the success of our unique public-private partnership," said Tammy Ham, president and chief executive officer of CicloMed. "Our shared goal is to discover and develop paradigm-changing cancer treatments."