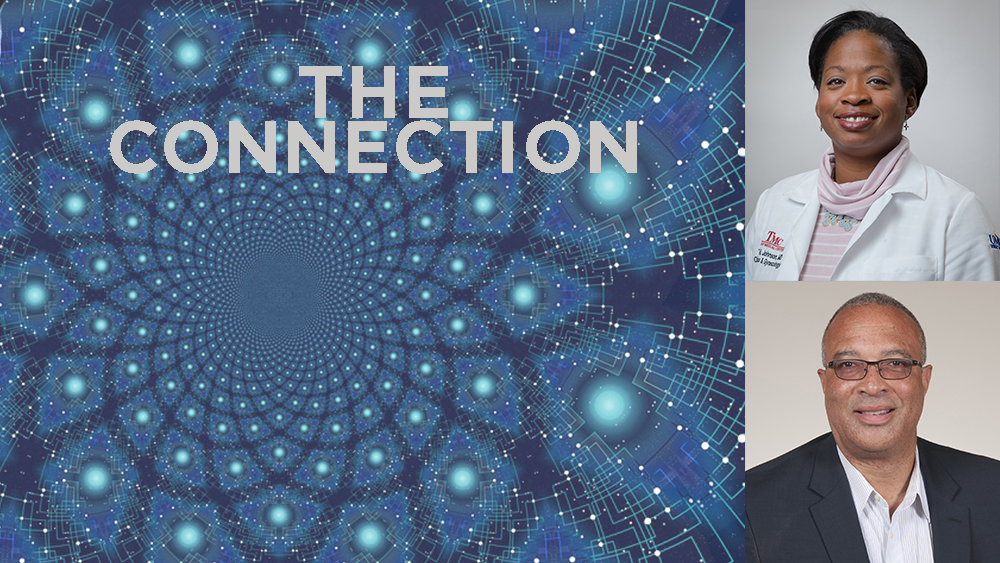 Faced with a global pandemic that disproportionately affected marginalized members of the community, a pair of powerhouse physicians teamed up to ensure the entire community's health and safety. Both doctors have experience responding quickly to situations that can't afford to wait. Dr. Traci Johnson, Obstetrician-Gynecologist at Truman Medical Centers/University Health (TMC/UH) and Maternal-Fetal Medicine Clinical Fellow at the University of Missouri – Kansas City (UMKC) School of Medicine and Dr. Michael Moncure, Vice Chair of Surgery, Trauma Surgeon and Critical Care Specialist at TMC/UH and Professor of Surgery at UMKC School of Medicine are on a collaborative mission to improve societal vaccine adoption. Through education, they're encouraging people to get the COVID-19 vaccine. With this effort, they hope to address the pandemic and improve the relationship between the healthcare system and minority populations in Kansas City.
This unifying mission for Johnson and Moncure is to establish a trust of the science behind the COVID-19 vaccines. Both doctors recognize that masks and vaccines have been politicized, which makes understanding the science even more important. "You can't think of a worse 'perfect storm'. You're in a community that is underserved as far as healthcare, has food deserts, you're the first person to be fired, you're the last person to get your job back, you have very little benefits, very few resources in the community and then there is COVID-19," Moncure said. "When people are in fear, it lends itself to conspiracy theories and truthfully, science and healthcare have not always done well by black people and people of color." Moncure knows trauma, stress, and vulnerability. "I see people on the worst day of their lives. They walk out of their house and suddenly there is an accident, a shooting or a fall, and they are vulnerable and scared," Moncure said.
Johnson's current research focus is social determinants of health (SDOH), an issue that existed long before the pandemic, but COVID-19 has exacerbated. These determinants are things like traumatic childhood experience, education, barriers or access to healthcare services and, during the pandemic especially, internet access. "Because it's an essential medical center TMC/UH cares for many patients that are on the fringe. They aren't able to pay for food or their medications and they struggle to secure transportation to and from their doctor's appointments," Johnson said. "This all influences their medical outcomes."
Johnson believes that a simple change in presentation can help to make primary care more accessible to those in the community who have a distrust in medicine. "As medical professionals we have not done a good job of asking our patients what they need. A lot of my research has gone into asking 'what do you need?' or 'what is and isn't working?' and then we should work to fill those gaps," Johnson said. Moncure worries that if medicine doesn't learn from history, a repeat failure to underserved communities is likely. "We have to make sure we are getting the vaccine to those most vulnerable. Science is fair and objective, but we cannot let algorithms and zip codes exclude people that need to be pushed to the forefront of our attention," Moncure said.
As students, both Johnson and Moncure encountered mentors that steered them towards healthcare. "I didn't really have a place where I fit in," Johnson said. "I had this teacher who saw my potential in science and when I started cutting up a bit in school, she confronted me. I never got in trouble again." Moncure had family that worked in healthcare but felt there was something holding him back. He was later encouraged by one of the few black faculty members during medical school. "After his lecture, I knew I would be a surgeon," Moncure said. With this shared experience, both doctors strive to be that mentor or role model for kids in Kansas City. "You want every child to realize their dreams. There are kids in our community who have almost every strike against them and it could mean the world to see someone that looks like them in this kind of role, working to make a difference," Moncure said. "If you can help them make it out, you better watch out."
Although Johnson and Moncure are different in their practice of medicine, both have a vision to make Kansas City a better place and view the pandemic and subsequent response as a catalyzing moment. "I hope in 10-15 years we look back and say that TMC/UH did the work. I hope that we are the beacon and example for patient outcomes, full-service care, and diversity, equity and inclusion. We need everyone at the table. I hope that other institutions will be on their way to the same outcomes, using Truman as a model," Johnson said. With these two leading the way, TMC/UH and people of color can build positive momentum around getting a COVID-19 vaccine when the opportunity arrives.