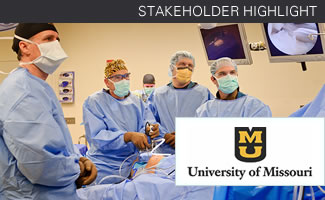 Projects are part of $42 million in grants that utilize MU's strengths in interdisciplinary collaboration
University of Missouri researchers have national reputation for their collaboration in interdisciplinary research. Building on this strength, MU researchers have received more than $42 million since January to support new research and educational opportunities. MU continues to hire high-impact faculty who will add to the university's research strengths by making important discoveries that save and improve lives while providing students with hands-on, real-world experience in labs and classrooms.
The $42 million is distributed among medicine, education and agriculture research, indicating the breadth of research expertise at MU. Some of the work includes:
A $19.8 million grant from the U.S. Department of Health and Human Services that will help Professor Marilyn Rantz and researchers from MU's Sinclair School of Nursing expand a program that reduces hospitalizations of nursing home residents, improves health outcomes of residents and lowers health care costs for residents and the state.
A $3 million gift that will allow MU Orthopaedics Professor James Cook and researchers at MU's Thompson Center for Regenerative Orthopaedics to improve procedures for repairing torn knee ligaments and storing donor tissue, which will increase the likelihood that a patient can locate matching tissue.
A $15.3 million Department of Education grant that MU Education Professor Christie Terry and MU's enhancing Missouri's Instructional Networked Teaching Strategies (eMINTS) program will use to integrate new technologies with teacher instruction to create better hands-on learning strategies for elementary students.
A $4.2 million NSF grant that MU Plant Sciences Professor Robert Sharp and MU's Interdisciplinary Plant Group will use to study how corn maintains root growth in drought conditions; research on drought resistant crops can help fight world hunger.
MU also recently hired renowned physical chemist Arthur Suits and physics professor David Singh. Suits and his team conduct research that helps scientists understand atmospheric chemistry. His study of combustion is useful in making cleaner and more efficient engines. Singh studies thermoelectrics, a process that could convert waste heat from automobile and combustion engines into electricity.
These research projects provide MU's students the unique opportunity to work alongside innovative researchers in their laboratories or in the field, offering students real-world, hands-on experience in finding answers to the world's problems – a hallmark of a Mizzou education.