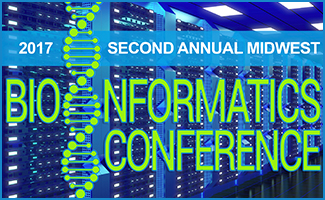 The Kansas City region boasts a wealth of bioinformatics capabilities and expertise that compares favorably with assets in other parts of the US known as bioinformatics centers. Our assets, however, are spread over a 250 mile geography between Columbia, MO and Manhattan, KS. Developing strategies to mitigate this issue was a primary driver in launching the Annual Midwest Bioinformatics Conference.
The Kansas City Area Life Sciences Institute in partnership with Children's Mercy and the University of Missouri- Kansas City are sponsoring the Second Annual Midwest Bioinformatics Conference. Scheduled for April 13 – 14, the conference will showcase practical approaches to collecting, organizing, and preparing data for a broad range of analyses applied in human and animal health. The Conference will convene bioinformatics-minded researchers from academia and industry to discover capabilities, share tactical approaches to problem-solving, explore synergies, and launch potential collaborations.
Additionally, there will be an opportunity for bioinformatics students to learn about employment opportunities within the region and employers to meet prospective candidates.
This year's conference will feature two keynote speakers:
Philip R.O. Payne, PhD, FACMI
Robert J. Terry Professor and Founding Director of the Institute for Informatics (I2)
Professor of General Medical Sciences, School of Medicine
Professor of Computer Science and Engineering, School of Engineering and Applied Science
Washington University in St. Louis School of Medicine
Liz Worthey, PhD
Faculty Investigator
Director of Software Development & Informatics
HudsonAlpha Institute for Biotechnology
The Conference will be hosted on the UMKC campus. Day 1 will be in the Student Union Auditorium at 5100 Cherry Street with a reception and dinner following on the fourth floor of the Union.  Day 2 will be in Pierson Auditorium (Rm 245) within the Atterbury Student Success Center located on 5000 Holmes. Mock interviews will be conducted by local industry professionals for students interested in gaining experience as a job candidate.
Please click here to learn more and register.