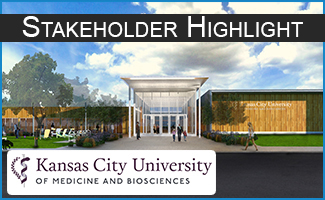 New Campus to Train Up To 162 Additional Osteopathic Medical Students Each Year
With the projected shortage of primary care physicians in this country topping more than 35,000 by 2025, Kansas City University of Medicine and Biosciences is helping to stem the looming crisis regionally with its new osteopathic medical school in Joplin, Missouri.
As the 10th largest medical school in the U.S., KCU has graduated more than 10,000 osteopathic physicians since its founding in 1916. KCU-Joplin will open this fall with an expected class of 150 students; it will be the first new medical school in Missouri in nearly 50 years and the seventh in the state.
Like many communities, Joplin has experienced difficulty recruiting and retaining highly qualified physicians to serve its growing, aging and rural populations. Historically, local undergraduates interested in medical careers were forced to relocate for their training and were unlikely to return to the area to practice.
"Studies show that about half of physicians choose to permanently locate within 75 miles of where they complete their residency," said Marc B. Hahn, DO, KCU president and CEO. "Joplin made the commitment to invest in its own medical school, and we're very pleased to partner with the community to bring training opportunities to the region."
The Joplin Regional Medical School Alliance, a not-for-profit advisory body committed to establishing a new medical school for southwest Missouri, extraordinarily raised $40 million in less than one year to build KCU-Joplin. Local philanthropy included the donation of the former, temporary Mercy Hospital (and land), which was built following the 2011 tornado that destroyed nearly 25 percent of the town.
KCU-Joplin's new state-of-the-art campus will provide a variety of active learning experiences. Classrooms have been designed with flexibility and technology, allowing students to work in small pods that encourage discussion and collaboration. The school's simulation suite will include 24 standardized patient exam rooms and three simulation rooms featuring high-fidelity, programmable robots in fully equipped medical, surgical, obstetrical and trauma settings. Extensive video conferencing capabilities will connect the Joplin campus to the Kansas City campus, so that students, faculty and staff can share learning opportunities.
Once fully operational, the University's Joplin campus will infuse an estimated $111 million annually into the regional economy and add approximately 100 new jobs in the area. Construction is on schedule to be completed in May.