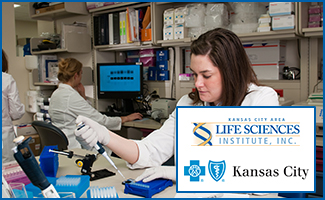 This marks the sixth consecutive year that the Kansas City Area Life Sciences Institute (KCALSI) has managed the grants program for Blue KC.
"We are very pleased to work with Blue KC to fund the highest quality research that turns their commitment into an over 9x return to the community in future grant dollars and better patient outcomes to our community," said Dr. Wayne Carter, KCALSI president and chief executive officer.  "We work with highly skilled researchers, scientists and physicians to review and assess each application based on scientific merits."
This year's grant recipients and a brief description of their research programs follow.
Jeffrey Colvin, MD, JD Department of Pediatrics, Children's Mercy – Optimizing Value and Cost-Effectiveness within Clinics for Children with Special Healthcare Needs
Children with Special Health Care Needs (CSHCN) are children with a chronic physical, developmental, behavioral, or emotional condition that requires health and related services beyond that required by children generally. Although they represent only one in 5 children, they account for nearly half of all pediatric medical expenditures. They have lifelong health impairments and high utilization of health care as adults.
Dr. Colvin will evaluate high quality, cost-effective clinical models for providing care for CSHCN, including patient-centered medical homes. He will determine the characteristics of CSHCN that most benefit from enrollment in a medical home specializing in CSHCN and who have the greatest medical cost reductions. To achieve these objectives, Colvin will conduct a retrospective cohort study utilizing a research data repository with health, health care, and health care cost data on CSHCN receiving care in a medical home for CSHCN at Children's Mercy and a matched CSHCN comparison group receiving traditional primary care at Children's Mercy.
Jennifer Goldman, MD, Department of Infectious Diseases, Children's Mercy – Clinical Impact of Antimicrobial Stewardship Program on High Risk Pediatric Patients
More than 2 million illnesses and 23,000 deaths in the U.S. are directly caused by antimicrobial resistant bacterial infections. A key component of the National Action Plan for Combating Antimicrobial-Resistant Bacteria plan is the importance of antimicrobial stewardship to assure appropriate use of antibiotics. Antimicrobial stewardship programs (ASP) improve the appropriate use of antibiotics by promoting the selection of the right antibiotic at the right time, at the right dose, and for the right duration. While national guidelines detail how ASP should be implemented in the hospital setting, little guidance is provided on how to measure the clinical impact of a stewardship program on patient outcomes.
Dr. Goldman will determine the clinical impact of Children's Mercy ASP on high-risk pediatric patients and disseminate the developed analytical methods to other pediatric hospitals across the country.  Her team will develop the analytical methods to measure the impact of our hospital-wide ASP on the clinical outcomes in high-risk pediatric patients. Specific clinical outcomes include hospital length of stay, 30-day mortality, hospital readmission within 30 days, the number of cases of hospital-acquired Clostridium difficile infection, and the number of clinical failures due to infection when clinicians comply with ASP antibiotic prescribing guidelines. The analytical methods and study results will be disseminated to 27 pediatric hospitals.
Steven Simpson, MD, Division of Pulmonary and Critical Care, University of Kansas Medical Center – Sepsis Predictive Risk Modeling Learned from Information Security
Dr. Simpson will develop a tool that supports near real-time clinical decision making for the prediction and early identification of sepsis in patients.  The tool is built upon data obtained through the Kansas Sepsis Project and Sepsis CMS Core Measures combined with a new data modeling approach that uses predictive and regression techniques frequently used in the information security field. The development of such clinical decision support tools is critical for the early and rapid detection of sepsis to assure appropriate medical management to prevent the progression of sepsis to severe sepsis to septic shock.
From 2007-2015, KCALSI grant programming has managed 69 grants totaling $3,300,144 million.
On average, for every $1 invested in grants, $9.10 has been returned to the region from follow-on federal sources.  Importantly, this number should be viewed conservatively as no information is available regarding grants made to regional scientists by private foundations and patient advocacy organizations.