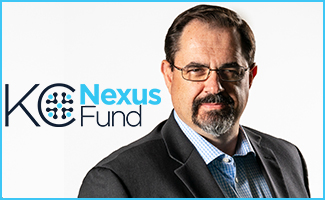 Great ideas are not guaranteed a future. There is a stage at the end of academic funding, before commercial funding availability kicks in, called the valley of death. Tony Simpson, of the KC Nexus Fund powered by BioNexus KC, is coordinating a life sciences Proof of Concept (POC) fund aimed at bridging that funding gap and guiding entrepreneurs through this valley into a realized outcome.
The POC fund idea was originally inspired in 2011 by the Center for Animal Health Innovation (CAHI), an initiative led by the Kansas Bioscience Authority (KBA) to bring animal health technologies to market earlier and more efficiently. Simpson and BioNexus KC not only collaborated on CAHI, they also both felt strongly about reigniting this opportunity for the Kansas City region. In 2018, BioNexus KC brought Simpson in to develop a wider scoped fund and project.
During Simpson's time at the KBA and CAHI, he started to see common pitfalls of companies trying to bring good ideas to market and production. There are several different pitfalls that can kill a good idea before it can become a successful company. Simpson has seen all of them play out time and again. "This period is called the valley of death because there is not a lot of capital available to fund the next phase of work," Simpson said. "What happens is companies boot strap funding through family or friends, or the company just dies." As dark as that may seem, Simpson has also seen the opposite happen, where research funding is secured but the entrepreneur uses the funds to do the wrong work to bring the product to viability and ends up wasting time, money, and the opportunity to advance the company.
The KC Nexus Fund aims to create an investment fund in the $6-10 million range that would invest in a diverse group of animal and human health companies at the POC phase. The Nexus Fund will also convene animal and human health advisory committees, made up of senior executives from leading companies in the Kansas City region.  These committees will help evaluate opportunities and provide companies with guidance on the research and development activities that will help them take their technologies forward. "BioNexus KC is the right place for this because of all the stakeholders they already bring to the table," Simpson beams. "To do this you need to have access to the early stage companies, to the universities to be able to see research, to clinical research organizations, to clinical trial facilities, to financial partners and investors, and a full connection to the industry. Because of their role at the center of the life sciences ecosystem in Kansas City, BioNexus KC is the right organization to incubate this."
Once the groundwork exploratory phase of this fund is complete, Simpson will start to raise capital, and once it has achieved a certain level, he will be able to start putting the fund to work. "As we get closer to closing the fund, we'll start prioritizing, categorizing and creating a database of opportunities that fit our investment thesis," Simpson said.
"It's fun. It's cool. Getting to see these technologies, meet the entrepreneurs that have these ideas to change the world. If their technology works, they are going to save lives," Simpson said, "They are going to give people hope that maybe don't have it."
Simpson is married with two kids and enjoys playing golf, riding his motorcycle, and shooting trap and skeet. His undergraduate degree is in economics from Millikin University in Decatur, IL. He also has an MBA in Finance from the University of Minnesota and claims to be the least scientific person in the room. His professional interest lies at the intersection of business and science and that perfectly positions him for this role. "There are a ton of great scientists that don't have that "in" into the business world and serving as that conduit and helping them understand how the business and finance world works is really a lot of fun, it's very exciting," Simpson said.
By having the access to the entire industry, the KC Nexus Fund will remove a barrier of investment into the biosciences field that has held other types of investors back. This field is technically demanding, and traditional investors often do not have the depth of experience to understand the industry, making them hesitant to join in.
As poetic as it sounds, Simpson and BioNexus KC are shining a light through the valley of death for the best regional innovators and entrepreneurs within the animal and human health industry. This will further solidify the region's strength within the industry by not only capital deployment, but also by offering industrial insight and market intelligence. The industries next best developments and ideas may not be guaranteed a successful future, but with Simpson and the KC Nexus fund, they stand a better chance.